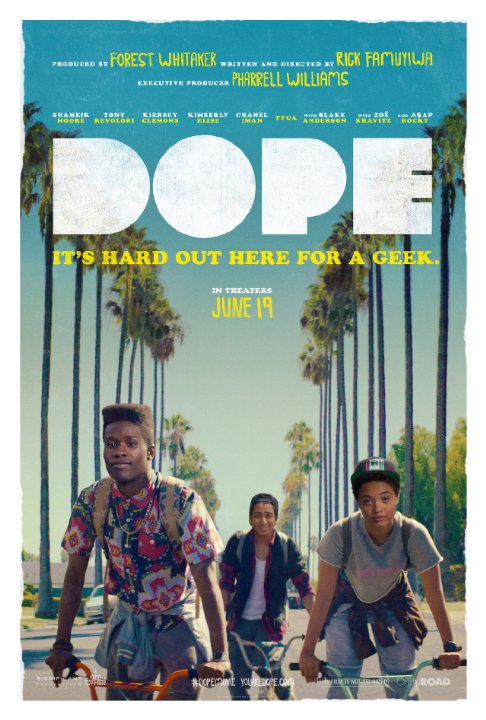 Dope
Dope is better than Brick.
Indyfreak - wrote on 01/11/16
Dope is a mostly funny and unique Afro-centric send-up of "Stand By Me" with a star making turn by lead actor Shameik Moore. This guy could be the black Matthew Broderick. He plays a self described genius named Malcolm who along with his friends are the designated nerds in a rough n tough LA neighborhood because of their affinity for 90s culture. One day they go to the wrong birthday party and a fight breaks out and somehow Malcolm ends up with a bag full of drugs. The first half of the movie is a fresh and well paced comedic misadventure about 3 kids out of their league with drug dealers, gang bangers, and high school cliques.
Unfortunately it doesn't last. Once a major plot twist happens halfway through, the movie does drag down unfortunately and never returns to the same level it started at. It does end on an intriguing note because of its moral ambiguity in the character development of Malcolm which actually engages the audience to determine whether the choice he made is for better or worse. That's a surprisingly mature way to handle what happens in the third act which I'm sure will rub people the wrong way.
While the story loses steam the movie's cast remain charming and interesting characters. It's a different experience than the usual type of movies set "in dah hood". Tony Revolori, Kiersey Clemons, Zoe Kravitz, and A$ap are great. There is one regular from Spike Lee's movies who gives a very cartoony performance though that takes you out of the movie's atypical style for a short bit. More importantly, it remembers the basics of "coming of age" storytelling and uses its setting to create something new for the genre instead of recycling cliches.