2/4

1.5/4

1.5/4

2.5/4

2.5/4

3.5/4

2.5/4

3/4

1.5/4

4/4

2.5/4

3/4

3/4

3/4

3/4

2.5/4

0.5/4

1.5/4

1.5/4

2.5/4

2/4

2.5/4

2.5/4

2/4

3.5/4

Next 4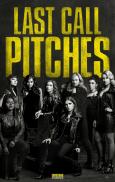 Pitch Perfect 3
Pitch it out
2/4 stars
Good thing this is the last of the Pitches. The title should really be Rebel Wilson's Rumble. Good thing too because she can't sing, and all her character does is make sexual innuendo references that aren't remotely vague or funny. Let's face it, it's a cash cow to ride the shirt tails of Anna Kendrick. Sure the rest of the Bella's can sing, but so can a thousand other college age students. (if you don't believe me there's some great talent on Youtube)
Surprise guest star John Lithgowe as FatAmy's dad is just enough under being over the top that it's fun. And in the same vein, unfortunately the same can't be said for the otherwise remarkably talented DJ Khaled, who's lines are delivered as someone who is "acting" that is to say, unnaturally.
Nothing really new with the songs either. In fact ***spoiler*** the finale song has a much better version with the Belladonna's joining with the contestants of NBC's The Voice.