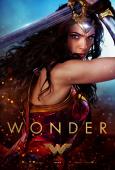 Wonder Woman (2017)
Wonder Woman is wonderful
3.5/4 stars
We all were holding our breaths for this one. We wished, prayed, wanted this to be a smart well thought out action packed movie that doesn't make our heroine play second fiddle to anyone. Turns out our fears were unnecessary Thankfully, the writer's an director gave us exactly what we wanted. Smart characters who make thoughtful choices in a world not of black and white decisions. I mean all the characters had good development and their moments added to the story. The special effects and action sequences were fun and sometimes a bit over the top, but this isn't Pale Rider or Butch Cassidy and the Sundance Kid, this is Wonder Woman! Any future DCU films should take note about the tone and feeling this movie brings out and toss the goth or anti-hero tone they've been developing. This way of telling stories lends itself to a much richer and diverse world to explore and grow in.
Even if you're not into the superhero movie, I'd venture to say you would enjoy this as a standard action film with a strong female lead (finally) Gal Gadot has obviously put in the time and training necessary for the role, and Chris Pine takes the writing of the script and allows it to stand on it's own merits. Great Job DCU, you finally did something right.