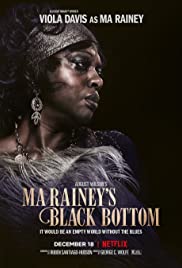 Ma Rainey's Black Bottom
"Why did you step on my shoe?"
Matthew Brady - wrote on 12/20/20
'Ma Rainey's Black Bottom' is beautifully written character study that is glued together by fantastic music and costumes. The movie is an hour and 34 minutes long, yet leaves no room for filler, only the nitty-gritty of things.

Based on a stage play by August Wilson, the movie is structured and staged almost like a theatrical production, remarkably like 'Fences', another August Wilson adaptation. I think all of Wilson's film adaptations should approach this kind of style, because it helps make his work stand out from the other movie adaptations in a unique way.

Viola Davis is terrific as "Mother of the Blues," Ma Rainey. Me calling her amazing isn't anything new, because when has Davis ever given a mediocre performance.

Chadwick Boseman....wow. Not since Peter Finch in 'Network' and Heath Ledger in 'The Dark Knight', as an actor made his final bow on screen so legendary. I can only describe his performance as both heart-breaking and epic. With his death in mind, the scenes where his character goes into long and heated monologues that later changes its aim and point towards God; asking why the lord hates him so much for him to suffer, asking him to strike him down, yelling at the top of his brittle voice and tearful eyes, to strike him down where he stands, almost begging to be set free from the torment he had to endure for most of his life. Scenes like that hit differently now. Incredibly powerful.