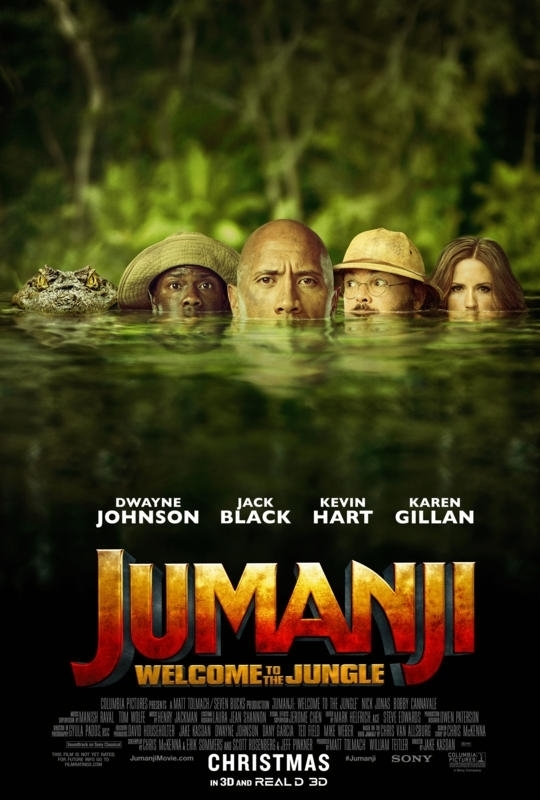 Jumanji: Welcome to the Jungle
Jumanji (2017) - Review
Matthew Brady - wrote on 01/19/18
"I hate this game"

This is kinda awkward isn't it. When you anticipate failure, but got something different. Those trailers didn't do any justice for this.

'Jumanji: Welcome to the Jungle' aims to entertain families and succeeds just on that. Was it great? NOPE. Was it terrible? Not really. I enjoyed the film is basically what am trying to say.

It's got flaws - The storytelling is really generic and you can pin point how scenes are gonna turn out. It never gets intense during the urgent moments. The villain is so forgettable that I can't even remember his name. Which is a shame because Bobby Cannavale is a great character actor and I've seen him do incredible stuff, however his talent is put to waste here.

Dwayne Johnson, Karen Gillan, Jack Black, and Kevin Hart all had really great chemistry. The back and forward humor between them made for some enjoyable scenes. Some jokes are hit or miss for me, however, the jokes that miss are nothing embarrassing like some family films.

I liked how against the character tropes you would expect to see from these actors, a part from Kevin Hart and I will explain why after this. Dwayne plays a wimp. Gillian plays a socially awkward teen. Jack Black plays a 16 year old girl stuck in an overweight middle aged man's body. Makes it more funny and not too formula. Kevin Hart plays and acts like he dose in every other movie. You can see a character there, just not to it's full potential.

Jack Black steals the show, in my opinion.

Overall rating: If you want a simple pop flick with fun action and solid entertainment, then this ticks all the boxes. It is was it is. Self aware at best.