3.5/4

2.5/4

3/4

1.5/4

3/4

0.5/4

3/4

3/4

4/4

3.5/4

3/4

3/4

3.5/4

3/4

3.5/4

1.5/4

1/4

3/4

2.5/4

1/4

0.5/4

1.5/4

1.5/4

3/4

3.5/4

Next 25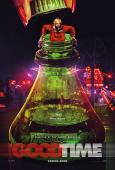 Good Time (2017)
Good Time - Review
3.5/4 stars
"I think something very important is happening and it's deeply connected to my purpose".

This was more than a good time. The hype with these character for causing crime made for one intense movie experiences. This is a ticking time bomb of a film.

Robert Pattinson is fucking fantastic in this. Sorry for the language, but it needed to be said. A fully realized performance that will be talked about for years to come. Few films can make you feel on edge like Pattinson. The Twilight days are past him now and it's time to move on.

Another performance that shouldn't be overlooked is Benny Safdie, who plays Pattinson mentally challenged brother. Safdie is also the director of the film. Directing and acting wise was all stellar.

It's unpredictable in different ways. You never fully know how certain scenes are gonna play out. Not just that, but how funny and incredibly sad it can be. You either laugh at the stupidity of the characters or weep at the depressing reality of it all.

'Good Time' ranks with the very best of the year.

What a great way to end a brilliant year like 2017.