1.5/4

1/4

3/4

2.5/4

1/4

0.5/4

1.5/4

1.5/4

3/4

3.5/4

3/4

1/4

1.5/4

3/4

1/4

1/4

2.5/4

1.5/4

2.5/4

3.5/4

3/4

2/4

3/4

2/4

3/4

Next 25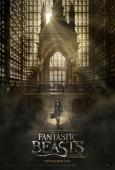 Fantastic Beasts and Where to Find Them
Fantastic Beasts - Movie Review
3/4 stars
"Fantastic Beasts and Where to Find Them" is a cute, funny, and enchanting film that I had a lot of fun with.

It doesn't cheat itself by using nostalgic or references to win you over. It manages stands on it's own feet and give us a fresh look of the wizarding world. That's the biggest praise I can give to this movie, as you can watch this without any acknowledgment of the Harry Potter films and you still know what's going on. I know fans will embrace this spin-off and rightly so.

Eddie Redmayne was excellent as Newt Scamander. He's likable, engaging, and has a very distinct personality. The same goes to Dan Fogler as Jacob Kowalski who isn't the annoying sidekick that I thought he was going to be. He added a lot to this film, which is the laughter and heart to the story. Come to my surprise, his character towards the end was the most emotional part of the film.

The rest of the cast were pretty solid and I can easily see fans falling in love with the characters.

Katherine Waterston was good as Tina, who's investigating the strange things that's going on in New York City.

When I said that Fogler brought the laughter and emotion to the story - well Colin Farrell (Percival Graves) and Ezra Miller (Credence) brought the dramatic elements. Both of their scenes I found pretty intense and was more interested in that story-line.

David Yates can be a hit or miss for me. (*COUGH COUGH* "The Legend of Tarzan" *COUGH COUGH*). I did like "Order of the Phoenix" and "Deathly Hallows: Part 2". The other's on the another hand, not so much. But I can say this about Yates, he understands the universe very well and him returning to direct must feel like home to him. While the action scenes are basic and duels aren't that special, but the best part & the main focus are the characters.

My issues with the film are mostly with the effect's, editing mistakes, and the heavy exposition scenes.

I kinda wish there was more practical work with none-effect characters. Like the Goblins or Elves didn't have to be cgi and could've easily had make-up on. Because the effect's for them looked fake and pretty bad which is unfortunate to say. It really did stick out and not in a good way.

Overall rating: There's plenty of room for improvement for "Fantastic Beasts", but the flaws didn't stop me from enjoying the film. And I don't mind that there's gonna be five of these. Seriously, I don't mind at all.