1.5/4

1/4

3/4

2.5/4

1/4

0.5/4

1.5/4

1.5/4

3/4

3.5/4

3/4

1/4

1.5/4

3/4

1/4

1/4

2.5/4

1.5/4

2.5/4

3.5/4

3/4

2/4

3/4

2/4

3/4

Next 25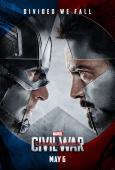 Captain America: Civil War
Captain America: Civil War - Movie Review
3/4 stars
Even friends can be your biggest enemies.

Captain America: Civil War is behind "Iron Man", "Winter Soldier", and "Guardians of the Galaxy" of being the best movie in the Marvel Cinematic Universe (Or MCU for short). The movie has it's flaws, but that doesn't stop me from liking it. I don't know about you, but the Captain America series are the only movies in the MCU that actually get better with it's squeals. The action, the effect's, the humor, the characters, and it's stunt work has improved from the first movie.

What this movie dose so well is that it's really hard to pick a side, because both sides have a very good reason to be at each others throats. One minute I'm rooting for Tony, and the next I'm rooting for Cap. It's conflict like this that I couldn't decide for myself on who side I was on or who was right, but that's just the fun of it.

Tom Holland as Spider-Man might be one of the best adaption of the character that we've had. Sony studios has made over five Spider-Man movies and the two actors who played Spider-Man (Maguire and Garfield), did their very best of what their got, but didn't quite capture the character that we know and love. But the Spider-Man in this movie has a screen time of 30 minutes or more, and Holland managed to capture the character so perfectly that it makes Sony studios look lousy. He was excellent in the role and I would go as far to say that he was a billion times better than Maguire and Garfield (In my opinion). I can't wait to see more of him in "Spider-Man: Homecoming" that's out next year.

Speaking of good casting - Chadwick Boseman was pretty damn awesome as Black Panther. Boseman can basically play anything and I'm not kidding you when I say that, as he played Jackie Robinson, James Brown, and now Black Panther. Chadwick Boseman has some crazy talent and him as Black Panther was spot on casting. I'm looking forward to seeing his solo film coming out in 2018.

If you thought the stunt work in "Winter Soldier" was outstanding, then wait until you see the stunt work in this movie, as it was just....INCREDIBLE! All the heavy praise belongs to the stunt team for doing the impossible.

Now for the problems: Daniel Brühl is a boring villain. I honestly can't remember much about his character in the movie and that's because he was pretty forgettable. That came across a bit too harsh didn't it? It really sucks for me to say that, because Daniel Brühl is great actor and sometimes he can be the saving grace for a movie that's either good or bad. He wasn't awful or anything like that, it's just that I didn't find him treating at all.

Martin Freeman is a great actor and I'm glad he's getting more meaty roles, but he doesn't do anything special or interesting in this movie. Yes, I know his character is probably going to developed more in the next movies, but my problem here is that he really felt out of place in this movie. At times the movie itself completely forgets about him, so every time he popped back up on screen I was like "Oh, Martin Freeman is in this movie, I totally forgot about that". But that's just me.

The story was a bit meh and there was a little bit too much quick cut edits in the fight scenes that I couldn't get all that infested with. Now don't get me wrong, I like the airport fight and the Iron Man V Cap fight, because those scenes didn't have stupid quick cuts and I could easily see whats happening. I think it's the hand-to-hand combat fights that are too cutter for me to see what's going on. That's just my opinion.

Overall: "Captain America: Civil War" lives up to the hype of being a great superhero movie and being a good movie on it's own. Marvel is having a great track record thus far- with the box office success, great reviews, and many upcoming spin offs. Civil War is most likely going to win every fanboys heart and it's not hard to see why.