1.5/4

1/4

3/4

2.5/4

1/4

0.5/4

1.5/4

1.5/4

3/4

3.5/4

3/4

1/4

1.5/4

3/4

1/4

1/4

2.5/4

1.5/4

2.5/4

3.5/4

3/4

2/4

3/4

2/4

3/4

Next 25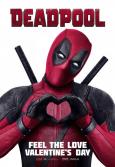 Deadpool
Deadpool - Movie Review
3/4 stars
Deadpool: "From the studio that inexplicably sewed his fucking mouth shut the first time, comes... me!".

One of the greatest anti-hero - the Merc with a mouth - Wade Wilson was once a special forces operative but turned mercenary. After being subjected to a rogue experiment, he finds himself with accelerated healing and transforms himself into Deadpool. Armed with weapons (and a wicked sense of humor) he will stop at nothing to track down the men responsible.

Never have I seen so many fans (or moviegoers), dying to see a character like Deadpool on the big screen; it's a bit like how everyone wanted to see The Avengers on the big screen back in late 2011. It's bad enough that the studios can't seem to get the character right with the disaster that was X-Men Origins: Wolverine. But the respect and love that fans have for this character stayed strong until everyone's prays was finally answered by this movie. And it did not disappoint, because Deadpool lives up to hype by being entertaining and hilarious. While I don't think it's an A+ like Chris Stuckmann rated it or a masterpiece of all comic book movies, but did I have fun watching this movie? ABSOLUTELY. It's a film that fans wanted and got.

I can't imagine anyone else in Hollywood playing Deadpool but only Ryan Reynolds. He was born to play this character and he's the only actor that I think of to do the character justice. Reynolds as expected did that, and that's make the character of Deadpool he's own. He was terrific has the mouth talking, ant-hero bad-ass. This is Ryan Reynolds come back role after his past disasters roles that mostly involves Green Lantern and Origins Wolverine (that this movie brilliantly makes fun off). Reynolds was just perfect for this character and he did a great performance in this film. He delivered the comedic timing and the somewhat of a hidden charm that Deadpool has. Ryan Reynolds absolutely nailed it.

The writing in this movie was surprisingly good, which I didn't expect for a movie with this kind of character. Of course there are Easter eggs, references and nods to the comics and Marvel movies, but in this movie it's done in such a way that feels kind of refreshing. I know for a fact that I missed a lot of the jokes and references due to amount of laughter that I had while watching the movie. I can say it with a brave face that the writing is this movies biggest strength, because it's self awareness on Marvel movies and itself was all top notch.

I'm so happy that this movie is rated R and not some water down PG-13 movie, because if you honestly think a Deadpool movie should be rated PG-13, then you really don't know the character at all. I'm taking to you Grace Randolph. Just because some little eight year old boy (who probably doesn't know who Deadpool really is), whats to see the movie, but can't because he's not old enough to see it, doesn't mean it should be changed to a PG-13 for someone who doesn't even know the character of Deadpool. These fans have waited 7 or 8 years for this character to be done right, so this little boys mother should teach him some patience.

Now for the flaws: How much better would this movie be if it had visual comedy. I mean Edge Wright should seriously do a Marvel movie, because I know for a fact that he will make the best Marvel movie ever when it comes to it's comedy, pasting and execution (something that Age of Ultron couldn't do). I highly recommend seeing Every Frame and Printing video on "How to do Visual comedy", because Tony Zhou knows some much about movies better then I do. But that's what I felt was missing in this movie and I know this is Tim Millers first big film (And an impressive one as well), but I'm just saying that it would be really brilliant if there was visual comedy in a movie with Deadpool.

While I did think the writing was great, but some of the jokes in the movie I didn't find that funny. And no, it's not because I didn't get it or I didn't understand the reference, because all of the jokes and reference in this movie I understood clearly, it's just that I didn't find some of it funny.

Overall Deadpool is a fresh, entertaining comic book movie that it's hard for any comic book lover not to like this movie. You bet I'll be seeing the squeal when it comes out since I know it's in good hands.