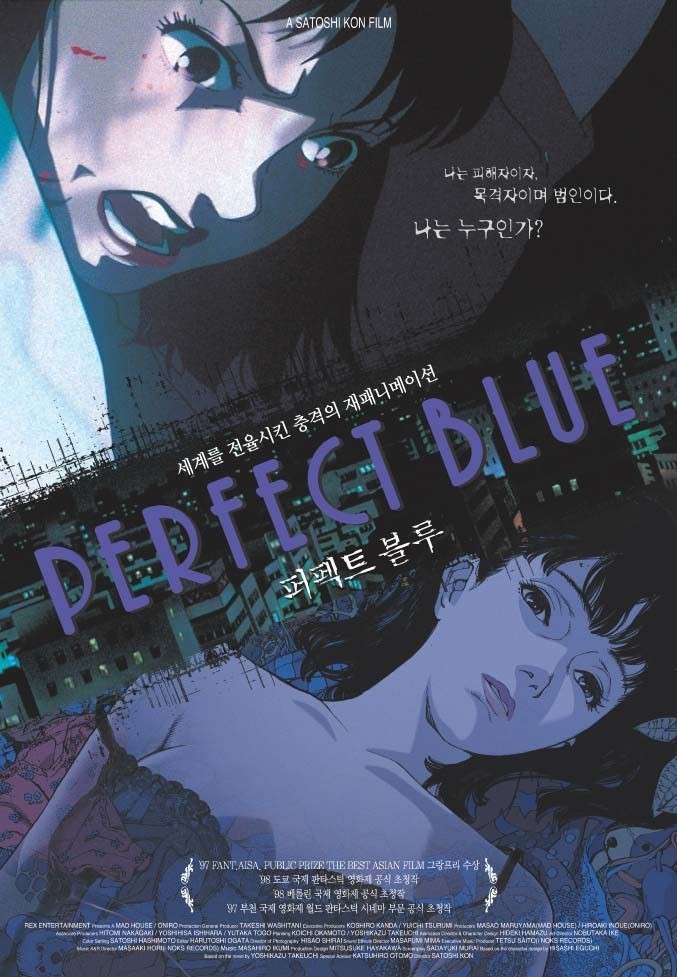 Perfect Blue
If Kubrick every did Anime it will be like this
Matthew Brady - wrote on 02/04/15
Mima: "Excuse me who are you".

The story is about a retired a pop idol, worshipped by the masses until fashion dictated otherwise. In order to salvage her career, she is advised to drop music and pursue acting. A soap opera role is offered but Mima's character is less clean cut than desired. Regardless, she agrees and events take a turn for the worse. She begins to feel reality slip, that her life is not her own. She discovers (imagines) her identical twin, a mirror image that hasn't given up singing. Internet sites appear describing every intimate detail of her life and a figure stalks her from the shadows. Her friends and associates are threatened (and killed) as Mima descends into a dangerous world of paranoid delusion. She fears for her life and must unravel fact from illusion in order to stay alive. Perfect Blue represents a major change from traditional anime subject matter, analysing the pop icon phenomenon, fame and its psychological impact on the performer.

It always shocks me how some people can dare to over look things, solid masterpieces out there but people still over look them and go see other films that are just stick in the mood basic films. I just adore the feeling of not knowing anything at the first then be amazed after wards and a film that get's you thinking as well, not like movies today that always play it save by doing the simple three act structure that I normally skip if I had the chance. Perfect Blue can be best described has a movie that you don't just put your feet up, sit back and have a delightful time, no in this you got to use your brain and try your best to piece it together to get the movie. Perfect Blue is Anime that got under my skin and drove the main character and me insane.

A quick fun fact here but Black Swan is actually a remake of this movie, yes to those who didn't know that well you do now. If I have to compare what's the better movie I got to say that overall Black Swan is a great movie, but I liked Perfect Blue a lot more so Perfect Blue all the way.

The animation in this never looked so well done, so beautiful but also scary and so haunting to look at. At times I thought I was watching a Hayao Miyazaki movie or a Stanley Kubrick film at one point, just be the switch of the atmosphere like it's peacefulness and then a utterly insane feeling to the movie.

For problems: Without spoiling anything the ending to me didn't end on a good note in my opinion. It isn't terrible it's just that it left me there going "Nah".

Overall Perfect Blue is an dark and twisted Anime movie with beautiful but haunting animation that sells the movie off has a deep thinking movie that you shouldn't get lost on track if you really want to understand the film. The film is a slow cult following that I will totally recommend to people who love Anime and analyzing films.