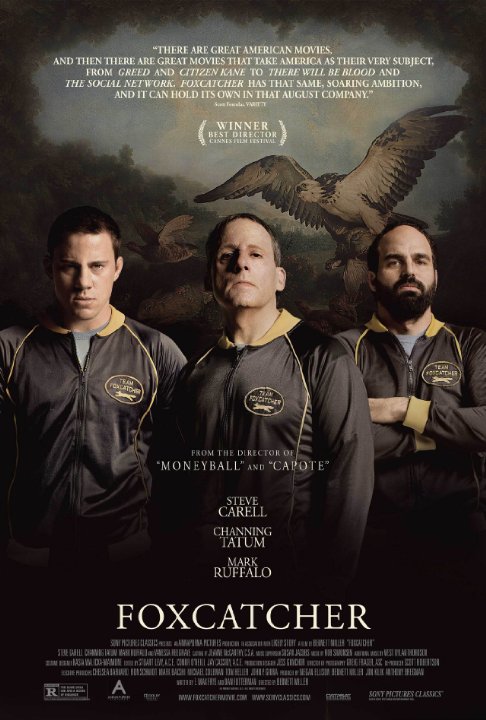 Foxcatcher
The american dream slowly turning grey
Matthew Brady - wrote on 12/29/14
Calling Steve Carell character (John du Pont) creepy is me being to nice. This guy is just chilling, unsettling, disturbing and can't stand to watch sometimes.

The film Foxcatcher is Based on the true story of Mark and Dave Schultz - brothers and Olympic championship wrestlers, who found themselves involved with John du Pont - their sponsor and eccentric multimillionaire. This relationship would eventually lead down a path to murder.

Foxcatcher had a lot of hype not because of the director or the other actors like Channing Tatum and Mark Ruffalo. The hype was for the comedy star Steve Carell has he takes a different performance from his usual comedy performance and how unnoticeable he is in this movie. There was a lot of Oscar Buzz about Carell performance for months after months about it and after seeing the film I can see why being are raving over this but I think it's a little bit to over hyped.

This movie may have stepped up Steve Carell career as not just a goofy comedy star but a serious actor as well, because in this movie his disturbingly and disgusting to the point were I forgot Steve Carell was playing this character.

Mark Ruffalo gives a great performance in this movie as he always do, because even when he's in a bad film he still gives it his all and in this he dose.

Probably the most over looked performance in this movie is actually Channing Tatum. I remember back in the day where Tatum was a bad actor and the movies that he was in you know these stupid comedy's that floped at the box office, yeah those movies, but in this movie he gives a Oscar worthy performance that got so over looked that I'm actually shocked about. Tatum is good actor and I this he did brilliant.

Bennett Miller has proved himself to be a brilliant film maker when it comes to drama or Biographical films, and his previous films Capote, Moneyball and now this film totally shows his brilliant's in that. In this film Miller shows when the american dream of wining and being the best can turn grey and really dark. He directed this movie with slick and passion and you really felt that in this movie.

The make-up in the movie was pretty well done. Now I don't normally bring up this in my reviews but in this movie every actor in this movie has make-up on, and it didn't look rubber like Cloud atlas make-up was.

For problems I have some like: The movie can be very slow at times now don't get me wrong I like slow paste movies because it's building up to something big, but in this movie they are scenes were it could have been cut out. The senses were you supposed to feel sad or shocked to kind of felt hollow for me.

Overall Foxcatcher is a good time first watch film and what I mean is the film is good but I don't want to watch it again. Why would I re-watch a film that make me feel disturbed deep inside, I'm sorry I just can't... still a good movie.