4/4

3.5/4

3/4

3.5/4

3.5/4

3.5/4

3.5/4

4/4

4/4

2/4

3.5/4

3/4

3.5/4

2/4

2.5/4

2.5/4

3/4

3.5/4

2.5/4

4/4

3/4

1.5/4

3.5/4

2.5/4

3.5/4

Next 21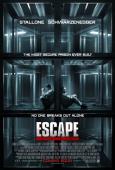 Escape Plan
Escape Plan
3/4 stars
This movie is not great art, but it is a very fun ride. Arnie and Sly have an outstanding chemistry in this movie and because they are both charismatic actors it really works for the movie. The only casting problem was 50 cent. Yes, 50 Cent is in the movie. And he is a computer hacker. However casted him should have looked more closely or just chose another unexperienced actor. Yes, there are real many unknown faces in this film and they all are doing a (let's be honest) bad job. But this movie is not for them, the movie is just there for Arnie and Sly. and their epicness. There were many homages, and if they did not sign up this movie would have been a total failure. But sometimes it leads to Arnie translating Sly. Like this:
Sly: hriufgvhigg
Arnie: You vant to break out of sis prisooon?
The plot is exciting and there is enough tension to keep sitting throughout the whole movie.

I would recommend this movie as a DVD rental for a hang-out with your bros, and I promise you, you are going to have a good time!