4/4

3.5/4

3/4

3.5/4

3.5/4

3.5/4

3.5/4

4/4

4/4

2/4

3.5/4

3/4

3.5/4

2/4

2.5/4

2.5/4

3/4

3.5/4

2.5/4

4/4

3/4

1.5/4

3.5/4

2.5/4

3.5/4

Next 21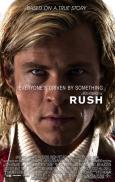 Rush (2013)
Rush
3.5/4 stars
i reallly like Formula 1. Still I hadn't had this movie on my list. Why? It is darn good.

The movie begins with exetremly loud noises. Race cars. Then the sounds gets a bit quiet and Niki Lauda/Daniel Brühl (I'm not that sure, sorry) speaks some words. Brilliant sound mixing. This keeps up throughout the whole movie. The sound mixing and editing is not to loud and not to low. It is just perfect. Very well done.

Another great part about the movie was the acting. Daniel Brühl gives the pest performance of his career. The german speaks a good Austrian accent. Not too extraggerated and not too unbelievable. And transforms infornt of our eyes into Niki Lauda. Chris Hemsworth just plays himself and James Hunt, because his character and the one of Hunt seem to be the same. Alexandra Maria Lara gives a breakthrough performance and might be going some ways, some day.

The direction of Ron Howard is... Well, he is a great director but since "A Beautiful Mind" he seems to have loosen his passion. Okay I have not seen "Frost/Nixon". However, he expiriences his sesond spring. Great comeback. He brings us as close into the cars as possible and succeeded. The only problem is, that he used to many black-outs.

The script is sometimes a bit chlichéd and some parts may not be that true but still it is great. The soundtrack by Hans Zimmer is brilliant. Unusual to his other works.

So, even if you don't like F1 or don't know that much about the history. Go see this movie, it is defianetly worth it!