3.5/4

0.5/4

3/4

2.5/4

1/4

0.5/4

3/4

0.5/4

0.5/4

2/4

1.5/4

2/4

3.5/4

1/4

1/4

1/4

2.5/4

2.5/4

3.5/4

1/4

3/4

1/4

2.5/4

3/4

3/4

Next 25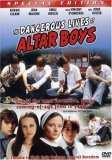 The Dangerous Lives of Altar Boys
The Dangerous Lives Of Alter Boys
2.5/4 stars
This is a great teenage movie about two teenage boys lives in a Catholic school. They rebel against the nuns, draw sleazy cartoons, and one boy meets a girl...
I really enjoyed this movie, as Emile Hirsch did a good performance, as did Jodie Foster. But, the only this I didn't like was the little snippets of animated characters. Even though it showed what the people of the movie were going through, in a different form, I have never like anime.
If you are a teenage boy, you will love this movie, and even though I am not, I still loved it!