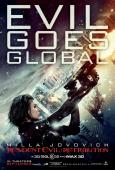 Resident Evil: Retribution
Resident Evil: Retribution - Weak plot
2/4 stars
I didn't really like this fifth one. The story was too short. And the acting was not that good. Only milla jovovich, michelle rodriguez and Boris Kodjoe did a good act in my opinion the rest was so-so. The plot was a little bit predictable and not very exciting nor thrilling. If Paul W.S. Anderson is thinking in making a new Resident Evil he'll have to do much more and much better than this to make a better sequel and bring back the emotion that the first and second movies caused on us. There's always the chance of improving but this one was just not worth to watch. Of course if we talk about the special effects, they were amazing!! We just saw a bullet in slow motion entering in the head of a zombie, and that's not easy to do. But special effetcs aren't everything in a movie.