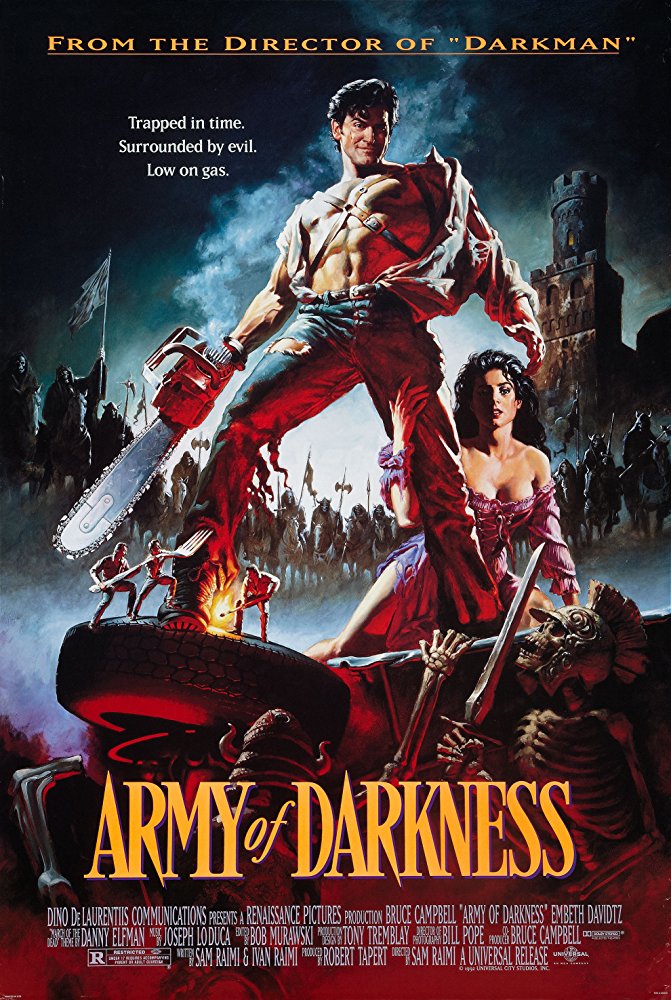 Army of Darkness
Great finale to the Evil Dead series...or is it?
Lee - wrote on 04/15/13
I remember back in the day watching the original Evil Dead for the first time and feeling weird at myself mostly cause I was laughing throughout the whole thing. Then I saw the rest of the films in the trilogy including Army Of Darkness, and said these were movies that director Sam Raimi made exactly for that reason...to laugh and being terrified at the same time, creating a brand new genre known as comedy-horror....A genre that only Raimi has tapped into so far (I hear the 2013 remake of The Evil Dead doesn't contain one single drop of comedy and is actually quite frightening in scenes. Although that still remains to be seen.)

Army Of Darkness continues with the events of the Evil Dead 2's ending Ash(Bruce Campbell), with his chainsaw loaded hand and his '73 Olds flying through time landing, not comfortably at all in Medieval times so to speak. His captors men of the castle.... once again so to speak, take him along with an assortment of men dressed in red lead by Duke Henry, Lord Arthur's adversary. It's not long before Ash is thrown into a pit that contains a couple of creatures that director Raimi likes to call 'Deadites' Ash is thrown his chainsaw by one of the castle's people who believes him to be the one and he quickly rids the world of the evil duo this makes believers of the rest of the villagers and now Ash is living the life of Reilly as he gets ready to do battle with The Army Of Darkness.

Action, comedy and horror could not have been more perfectly joined hand in hand as some great one liners get omitted by Ash. In one great scene Ash showing all the citizens of 1300 A.D. his sawed off shotgun yells this is his 'Boomstick!!!' Also telling them to shop smart...shop S-Mart (The store for those of you that don't know what the heck it is I am talking about that Ash once managed back in his time.)

For those of you that haven't seen this gem of a movie then by all means do so...I now wait for the mush anticipated sequel that apparently Sam is in the midst of working on.