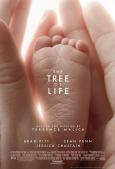 The Tree of Life
A masterpiece.
4/4 stars
The Tree of Life is one of those films that you either love or hate - there is no middle ground. It questions the existence of God and shows the truly important things in life in a way that makes the viewer search for the answers himself - but they are hidden in plain sight.
The film itself is about Sean Penn's character who remembers his childhood after he learns that his younger brother has died, trying to say goodbye when it is too late. The scenes in the film are like remembering your own childhood - you don't remember all of it but you are able to recall the innocence of it and some of these not-so-important moments that become important later because they stick with your forever. The plot would've made the movie boring if it wasn't done in such unusual way. The cinematography and the colors create a strong impression and add to the feeling of the whole movie. The performances of Brad Pitt, Jessica Chastain and Sean Penn are unforgettable just as is the sequence of the creation of the universe which feels like it could be a movie on its own.
The speech in the beginning, about choosing the way you live your life is what (I believe) sets the whole mood. After I finished watching the movie I remember vividly the way I felt - I felt the need to live my life by the way of grace and to this day I try to do so. The most important thing in this film to me is not the stunning visuals, great performances or the to-die-for editing - it's the fact that it made me want to change the way I live my life. Because the truth is that "the only way to be happy is to love. Unless you love, your life will flash by."