2.5/4

2.5/4

4/4

2.5/4

1.5/4

3.5/4

2.5/4

1.5/4

3/4

2.5/4

2.5/4

2.5/4

1.5/4

2.5/4

2/4

1.5/4

2/4

1/4

4/4

2/4

2.5/4

4/4

2.5/4

3/4

2.5/4

Next 16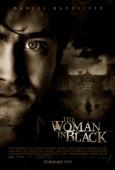 Woman in Black, The (2012)
On the whole, disappointing!
2.5/4 stars
The scenery was awesome, scary moments really scary and the story intriguing... in the beginning. As film progressed, my interest for the story dwindled, and in the end I was just disappointed. Daniel Radcliffe's character simply wasn't interesting enough, and it seems he himself cannot still shake off his Harry Potter manners. The ending was in my opinion ridiculous and unsatisfying, not to mention contradictory to the character of the woman in black and to the whole point of the story - if there was any point actually.

Don't read further if you haven't seen the film - spoilers below:

Really, not only Arthur didn't accomplish the task he was sent for, from the beginning of the film, he didn't even manage to solve the village issue with the woman in black. He did solve the mystery of the drowned child, but that didn't help the situation at all. What was then the point of all his trouble (and ours with him)? To have a sequel where that actually would be solved? Nooooo.... And, as for the ending, I wouldn't consider that a HAPPY one. Arthur and the son were certainly one day supposed to meet their beloved wife and mother, but such a haste forced by that ominous lady I wouldn't consider cute. Nor happy. But, maybe the point was to prove that Arthur was the only parent that actually tried to save his child - all the others seem to fail in that task, although some didn't have a chance to try. No, the whole story doesn't hold. Maybe it would be better to simply read the book!