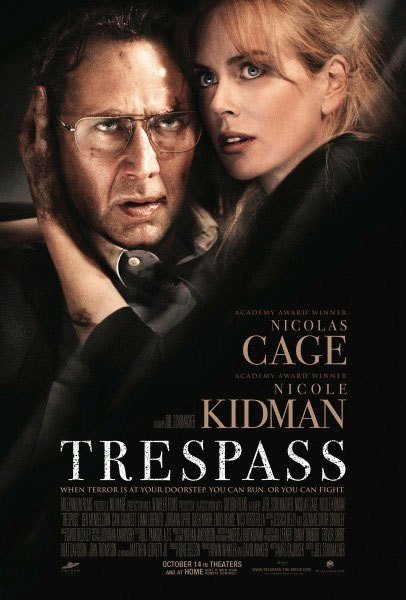 Trespass (2011)
At least its not as bad as New Year's Eve
Andrew - wrote on 05/18/12
There are only two positive things I can say about this film. One, it is not the worst movie ever. Two, it's plot somehow managed to be slightly interesting, which means that I didn't hate every minute of it. Ok, now that those two "compliments" are out of the way...

Trespass is about a diamond salesman named Kyle Miller (Cage) who is having family trouble. His wife Sarah (Kidman) resents him for being away so often and paying little attention to their daughter Avery (Liana Liberato) who sneaks out to go to a party, but later returns. Things go from bad to worse when a band of thieves (Gigandet, Spiro, Mendelsohn, and Mihok) and threaten their lives.

The plot is ridiculous. The are so many twists and turns and subplots introduced throughout and it is hard to keep them all straight. I was at the point of almost begging for mercy by the end of the film.

This film features some terrible overacting. Screaming and shouting are what passes for "acting" in this film and the dialogue is atrocious, usually consisting of expletive laden threats. The thugs are truly vile and despicable characters with no depth. Nicolas Cage appears in another terrible movie, and so on...

There is no real reason to watch this film unless of course you count "being better than New Year's Eve" as a reason. It really is a shame that two Academy Award winners such as Cage and Kidman have fallen this far, but the ultimatel responsibility lies with Joel Schumacher for directing such a turd of a film. It comes as no surprise that this film was released on DVD only 18 days after its theatrical release and that it grossed about $7 million worldwide on a $35 million budget. In this case, the numbers don't lie, this movie sucks.