4/4

3.5/4

4/4

4/4

2/4

3/4

1.5/4

1/4

0.5/4

4/4

3.5/4

3/4

2/4

2/4

1/4

4/4

4/4

3/4

4/4

3/4

3.5/4

1/4

3/4

1/4

3.5/4

Next 25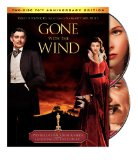 Gone with the Wind
A Timeless Classic
4/4 stars
Gone With the Wind is surely one of the greatest American films of all time. It's grandeur and epic nature is especially impressive for a film released in the late 1930s. It is quite clear that no expensive was sparred during production, as the film was made for a then astronomical figure of $3.85 million.

The story is about Scarlett O'Hara (Vivien Leigh), a Southern Belle looking to marry Ashley Wilkes (Leslie Howard), despite his impending marriage to Melanie Hamilton (Olivia de Havilland) just before he goes of to fight in the Civil War. Meanwhile, the scoundrel Rhett Butler (Clark Gable) profiteers as a blockade runner during the conflict, while pursuing an uninterested Scarlett. Of course, life during the war and reconstruction period is not easy as the Southern people are forced to give up their slaves and accept the Northern occupation of their cities.

Clark Gable gives a tremendous performance as Rhett Butler, as he is able to portray great sympathy for his character despite his questionable ethics. Vivien Leigh won a well deserved Oscar for her performance as Scarlett O'Hara, channeling anger, sorrow, misery, joy, and many other emotions in her role. The supporting cast is also particularly good, especially de Havilland and Hattie McDaniel.

The films cinematography and scenery are spectacular as the film was shot in color. Director Victor Fleming brings together a motion picture masterpiece that is very long (nearly 4 hours) but very complete, as it depicts nearly the entire range of human emotion during one of the most trying times in American history. This film is one of the greatest of all time and must be watched.

As for the controversy surround the film (particularly its positive depiction of White plantation owners), most of the criticism has some validity. It declines to show the brutality of slavery and the contempt that many Southerners had for blacks. Butterfly McQueen's performance as the shrieking Prissy is over the top and somewhat insulting. However, viewers of this film must remember that it is a work of fiction that stands against the backdrop of the Civil War and Reconstruction, it is not to be taken as a wholly accurate or inaccurate portrayal of this period in American history.