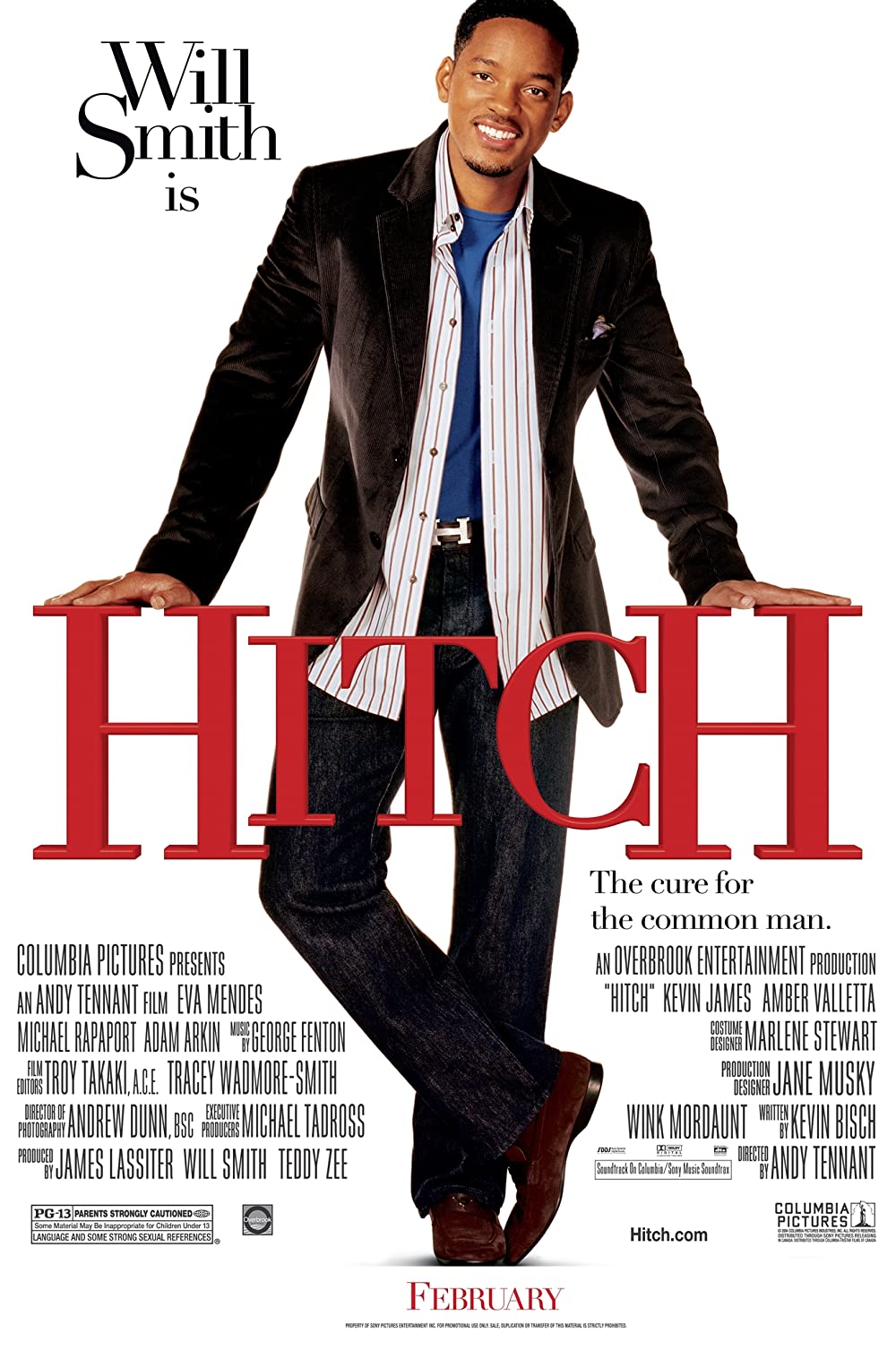 Hitch
Predictable, Unfunny, and Way Too Long
JLFM - wrote on 07/22/13
Hitch just doesn't work. Plain and simple. The cast tries hard (for the most part), but this film just simply isn't funny. Featuring a bloated run time of nearly 2 hours, I laughed only once or twice. Yes, Hitch is that despicable kind of movie; a comedy that's not funny. And worse still, it's also absurdly predictable. Formula, formula, formula, and not a single unique character, gag, or plot point. If it wasn't for the big name cast, I might've assumed this was a made-for-TV film.

The paper-thin plot (that is stretched to the breaking point) is about a dating adviser named Alex Hitchens (though he goes by Hitch). While Hitch has matched many people up with their perfect partner, Hitch himself has not had a long-running relationship. So Hitch finally hooks up with a girl, though unfortunate events may destroy his relationship, and his reputation.

You want cheesy pick-up lines? You got it. You want slapstick? You got it. You want kicks to the groin? Heck, we've got that too. But you want laughs? Good luck buddy, nothing here but groans.

And the story is so predictable, I almost felt like I had seen this film before. This film is also ridiculously cheesy, as it tries to make the ending as perfect and happy as possible.

I haven't even mentioned the product placement, pacing issues, and some of the most clumsy dialogue I've ever heard in a romance film. I know this is a chick flick, but come on! Even the most easily moved individuals won't be able to resist a few eye rolls.

The cast, however, seems very committed. Will Smith gives it his all as Hitch, while Kevin James is very energetic as Albert Brennaman. The actors are so into their roles, we almost want to believe what they're saying is actually funny. But no amount of acting could ever fool the audience into believing this script is any good. Also, Eva Mendes is entirely bland as Hitch's love interest Sara Melas (though the character itself is fairly bland too).

Surprisingly, the score by George Fenton is pretty decent. Yes, it feels very dated. And the more sentimental bits are cliched and forgettable. But there is some really fun music and piano pieces throughout, so the score was a pleasant surprise.

As I watched Hitch, I just shook my head in amazement. Insulting doesn't even begin to describe the kind of immature "humor" is on display here. These are the kind of gags I might expect in a TV show on the Disney Channel. Why must Hollywood throw us all of this garbage and expect us to eat it and like it? I like to see some actual effort and creativity in the films I watch!

Staring at the screen in utter disgust, I began wondering how anyone could possibly find this film funny. And yet, 3 of my friends were laughing their heads off as they watched Hitch, repeating lines they found amusing (which was nearly all of them). Sigh. Looks like Hollywood wins again.