3.5/4

3/4

3.5/4

1.5/4

2.5/4

3.5/4

2.5/4

3/4

2/4

3.5/4

3.5/4

2.5/4

1.5/4

0.5/4

3.5/4

4/4

2.5/4

1.5/4

3/4

3/4

3/4

1/4

3.5/4

3/4

3/4

Next 25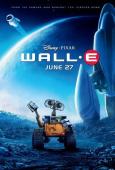 Wall-E
Robot Finds Love, Critic Finds Good Movie
4/4 stars
It's been years since I've seen Wall-E. I remember enjoying it, just like the rest of the Pixar bunch, so I got it via Netflix to see again. A wise choice. Wall-E is even better than I remember it.

Wall-E is an ingenious film that occurs thousands of years in the future. Humans no longer live on the Earth due to pollution, they instead live in a giant spaceship, called the Axim. The Wall-E robots are left at Earth to clean up the mess. All of the Wall-E's, however, have been wiped out over time. Only one remains. But when EVE, a robot from the Axim, comes to Earth to find life, Wall-E's life is flipped upside down.

The first half-hour of the film is performed with minimal dialogue, but still mananges to express all kinds of emotion: Laughter, loneliness, perhaps even sadness. I cried multiple times throughout the film.

The animation is gorgeous, even for today. And the musical score, composed by Thomas Newman, is excellent.

There really isn't any sort of flaw to this film. It's entertaining, it's funny, it has a lot of heart, there's amazing animation, and an impressive musical score.

Of course, I haven't even touched base on the best aspect of the film: the characters. Wall-E has, perhaps, some of the most memorable (and hilarious) characters in all Pixar history. From the quirky Wall-E, to the grumpy M-O, to the rotund captain of the Axim, there's an endless abundance of charming cast members.

Wall-E is easily one of the greatest animated films made. Period.