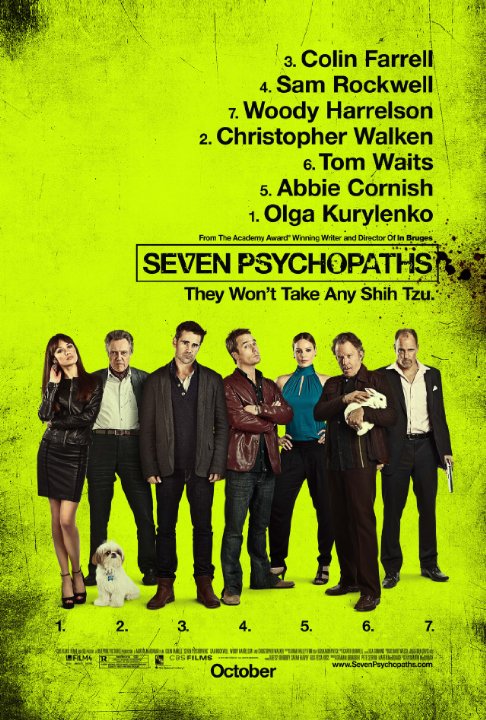 Seven Psychopaths
A Flare Gun at the Final Shootout???
MovieAddict - wrote on 02/03/13
Was John Dillinger was shot in the eye or not????

"Seven Psychopaths" is a movie unlike your average Hollywood movie but it's hard to explain without giving too much away. There are plenty of twists, Tarantino-esque violence (which I loved especially after watching Django Unchained – The D is silent lol). However it was a pretty funny movie, well-written, superbly acted, engaging, provocative, and above all else, it has a humorous and witty dialogue.

The movie begins with a drunken washed up Irish screenwriter Marty (Colin Farrel) who wants to write a non-violent script about seven psychopaths. Keen to help is best pal Billy (Sam Rockwell), a slightly unhinged and failed actor who's finding it more lucrative to be in the dog-kidnapping business together with his partner in crime Hans Kieslowski (Christopher Walken).

However Billy doesn't like the idea about seven psychopaths in a pacifist movie. If there are going to be psychopaths in a movie, the script must be about violence; full of blood and gunfire. So, he provides Marty with ideas to who the other titular psychopaths could be in his screenplay. There's a Jack of Hearts serial Killer with a penchant of leaving behind his calling card, an Amish parish out for vengeance on the killer who did the unthinkable to his daughter, a violent Bonnie and Clyde styled tag-team, and a Viet Cong out to seek revenge in the soil of the US, involving explosives, and a hooker and Harry Dean Stanton as the mysterious Man in the Hat.

However Marty soon finds himself in the crosshairs of another psychopath when his buddy steals a dog from the wrong guy, crime boss Charlie Costello (Woody Harrelson) and here's where all hell breaks loose. The violent nature of Charlie, usually involves shooting people without remorse so long as he can get his gun to work, and now the trio must suffer the consequences but by the end of it all – if Marty is still alive that is – he'll have one hell of a story to write.

Woody Harrelson is brilliant, as always, playing the ultimate psychopath, who loves his dog so much it becomes hilarious while Sam Rockwell, who I've never really noticed before, is amazing as Billy, a character more complex than originally understood.

The script pokes fun at the weak female characters - Abbie Cornish as Farrell's girlfriend, and former Bond girl Olga Kurylenko as Woody Harrelson's less-than-loyal girlfriend, Angela but Director Martin McDonaghn backs himself up with a speech by Marty in which he explains the lack of women in films today and how they are used for either sex or to be killed.

Warning…if you can't stand Tarantino, or the Cohen brothers, don't waste your time watching this film but for all those who love that style be sure to check this one out.

Recent Comments