2/4

2/4

2.5/4

2/4

3.5/4

2.5/4

2/4

2.5/4

2/4

2/4

2/4

3/4

3/4

3/4

2.5/4

2.5/4

2.5/4

2.5/4

2/4

2.5/4

2/4

2.5/4

3/4

3/4

2.5/4

Next 25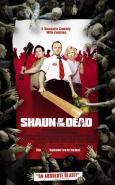 Shaun of the Dead
Flesh-eating fun for the whole family!
3/4 stars
What do you do when Zombies attack? Throw Sade records at them, of course and beat them off with a cricket bat!

A zombie epidemic takes over London, and recently dumped shop assistant Shaun (Simon Pegg), with his slob roommate Ed (Nick Frost) who doesn't have a job, plays video games nonstop and sells weed have to stay alive, save Shaun's mum, his ex-girlfriend and do their utmost to stop the lumbering undead from breaking through the walls of the Winchester, a local pub of questionable repute and feasting on their flesh. But Shaun, armed with a cricket bat, is determined to save the woman he loves and nothing is going to get in his way!

The plot rips along beautifully and parodies the zombie genres. Shaun's dry wit of the situation makes the viewers able to laugh so if you are looking for some good, bloody fun, check out Shaun of the dead. The supporting cast also includes Bill Nighy as Shaun's supercilious stepfather.