2/4

2/4

2.5/4

2/4

3.5/4

2.5/4

2/4

2.5/4

2/4

2/4

2/4

3/4

3/4

3/4

2.5/4

2.5/4

2.5/4

2.5/4

2/4

2.5/4

2/4

2.5/4

3/4

3/4

2.5/4

Next 25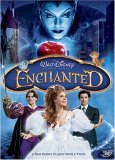 Enchanted
Delightful Disney Magic!
2.5/4 stars
A fun comedy that combines both the magic of Disney pre-21st century with a 21st century sense of humor as Snowwhite comes to modern day New York! It really becomes a riot when the Prince (James Marsden as Edward), a queen's sniveling henchman Nathaniel (Timothy Spall), a chipmunk named Pip and the Queen herself all follow her to there.

Amy Adams was fantastic as the wide eyed Giselle. She was just so endearing and the embodiment of believable innocence. We have a wonderfully wicked stepmother (Susan Sarandon) who can't take that her step son will marry a girl prettier than her and become King so she banishes Giselle to that dark place where no one lives happily ever after. That's right New York City where Giselle meets Patrick Dempsey, the world-weary yet still caring dad who is the perfect mix of modern man and Prince Charming.

The musical numbers are so over-the-top that you can't help but enjoy their nod to the classic Disney fairy tale musicals. It is a wild ride from start to finish and offers nonstop laughter for child and adult alike. Enchanted is simply enchanting. Give it a try.