3/4

1/4

2.5/4

4/4

2.5/4

0.5/4

0.5/4

4/4

3/4

3/4

1/4

1/4

3/4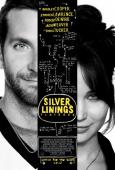 Silver Linings Playbook
Holy Hell, Bradley Cooper Was Great
4/4 stars
What an awesome surprise. A very serious movie about mental illness and coping with loss disguised as romantic comedy.

Great direction, awesome casting, incredible performances by Robert Deniro, Jennifer Lawrence and even Bradley Cooper (that was the biggest surprise) and a strong soundtrack/score combine to create my favorite movie of 2012.

Things I loved about this movie: Bradley Cooper cutting weight by working out while wearing a trash bag, Chris Tucker's performance, Robert Deniro's OCD, Bradley Cooper's lack of a communication filter and the dance scene.

I typically push back when everyone I know tells me I need to see a movie- I'm typically right to avoid such suggestions (The Passion of the Christ is the first example that comes to mind.) This time i should have taken the advice and seen The Silver Linings Playbook a long time ago.