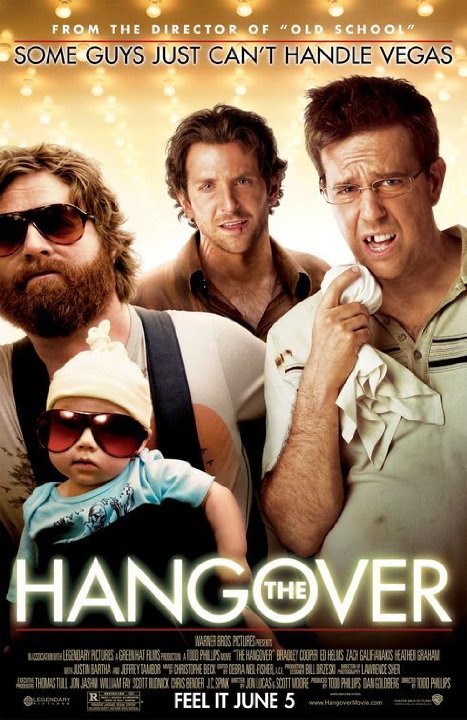 The Hangover
One Hangover I Wish I Could Forget
GeminiSixty6 - wrote on 07/12/09
I keep asking myself one question over and over again about The Hangover. What is the one memorable moment that is going to make it stand out as a really good comedy flick? Well, for me it's absolutely nothing. The day after I watched the film a friend of mine asked me what I ended up seeing the night before. I had to think hard on the answer, because I couldn't for the life of me remember what I saw. I had a movie hangover, and not one of a good kind.

Doug (Justin Bartha) and Tracy (Sasha Barrese) are about to get married. Two days before the wedding, Doug and his two best buddies Phil (Bradley Cooper) and Stu (Ed Helms), along with Tracy's brother Alan (Zach Galifanakis) hop into Tracy's father's beloved Mercedes convertible for a 24-hour stag party to Las Vegas. Phil, a married high school teacher, has the same maturity level as his students when he's with his pals. Stu, a dentist, is worried about everything, especially what his controlling girlfriend Melissa (Rachael Harris) thinks. She disapproves of traditional male bonding rituals; Phil has to lie to her about the stag, telling her that they are going on a wine tasting tour in the Napa Valley. Regardless of the advice and wishes of his friends he intends on eventually marrying her. Alan seems to be unaware of what are considered the social graces of the western world. The morning after their arrival in Las Vegas, they awaken in their hotel suite each with the worst hangover. No one remembers what happened the night before, and the suite is in shambles. There are certain things are in the suite that shouldn't be (such as a tiger), and certain things that should be in the suite are missing (such as Doug). As Phil, Stu, and Alan try to find Doug using only what little pieces of information they have at hand, they go on a journey of discovery. However, they are on a race against time because if they can't find Doug in the next few hours, they are going to have to explain to Tracy why they are not yet back in Los Angeles. Even worse, they may not find Doug at all before the wedding.

I wasn't expecting much walking into this one, and I'm really glad for that. Now I know the few of you reading this aren't going, or did go see the film because of an actor or actress, but I have to say that Bradley Cooper's performance as Phil is the shining star for me here. I have always enjoyed watching him perform, and the same can be said here. The rest of the performances are mediocre, and that is okay because they work for the film. I'm sure Warner Brothers isn't complaining at all! The film only cost the company around $35 million to make and at the time of this review the film's total gross is around $205 million. The overall story is creative and original, and the box office needed that this summer. However, I only found The Hangover amusing not hilarious like the rest of America. Honestly, I've seen better self discoveries at prom after parties. Don't get me wrong, it has its laughs, but none that I could really remember after I walked out of the film. I leave The Hangover with two Advil's and only two and a half stars out of four.