2.5/4

3/4

2/4

2/4

3/4

3/4

2.5/4

3.5/4

3/4

2.5/4

3/4

3/4

3/4

3/4

N/A

N/A

3/4

N/A

3.5/4

3/4

3.5/4

N/A

2.5/4

2.5/4

2.5/4

Next 25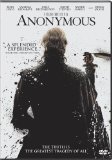 Anonymous (2011)
"Anonymous" by Yojimbo
2.5/4 stars
A secretive Elizabethan nobleman who wishes to stage his plays in order to politically influence the common people finds a willing stooge to put his name to them and preserve his identity; a man by the name of William Shakespeare.

Roland Emmerich abandons his familiar territory of the computer generated disaster movie to direct this historical potboiler that is part period drama, part tinfoil-hatted conspiracy theory. Thanks to some nice costume and set design and decent performances by the supporting cast, Anonymous can be quite atmospheric at times and the combination of political machinations and historical context maintains the interest - if you like this type of thing, of course. But it also has a kind of Hollywood slickness that seems at odds with the intrigue on the screen and even if you can swallow the conceit of Shakespeare being nothing more than an illiterate - even murderous - fraud, the conspiracy spirals out of control to become truly preposterous by its end.

You may find Anonymous reasonably entertaining if you are a fan of historical drama, but it lacks the necessary weight and plausibility to make it feel like anything more than a cheap, Hollywoodized rehash of Amadeus.