2.5/4

3/4

2/4

2/4

3/4

3/4

2.5/4

3.5/4

3/4

2.5/4

3/4

3/4

3/4

3/4

N/A

N/A

3/4

N/A

3.5/4

3/4

3.5/4

N/A

2.5/4

2.5/4

2.5/4

Next 25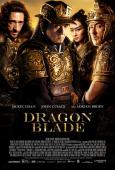 Dragon Blade ( Tian jiang xiong shi )
"Dragon Blade" by Yojimbo
2/4 stars
A lost Roman legion encounters a ruined city on The Silk Road and after being invited inside by its pacifist commander, they unite to prevent an incursion by the corrupt ruler who is pursuing them. 

Dragon Blade is a fairly typical Chinese historical action movie with one obvious exception; the inclusion of American stars John Cusack and Adrien Brody and the Roman army. To the little boy in me, there is something a little irresistible about the idea of legionnaires battling Asian martial artists and it provides plenty of visual spectacle and glittering armour to behold. The script - as ever - is the weak link; the plotting is episodic and often unconvincing, the dialogue clumsy and overly sentimental and there are many eye-rollingly corny moments. Cusack and Brody's pantomime villain both devour the scenery mercilessly but to be fair, the dialogue they have to work with makes any attempt at subtlety completely redundant. Jackie Chan's presence thankfully serves to temper the film's worst excesses and his fight choreography is as effective as always and he brings a lot of heart to the story of different races and cultures looking past their differences and coming together for common cause.

Far from perfect but if you can ignore its more glaring flaws, Dragon Blade has some good points too; whether they are enough to save it depends entirely upon taste I suspect.