2.5/4

3/4

2/4

2/4

3/4

3/4

2.5/4

3.5/4

3/4

2.5/4

3/4

3/4

3/4

3/4

N/A

N/A

3/4

N/A

3.5/4

3/4

3.5/4

N/A

2.5/4

2.5/4

2.5/4

Next 25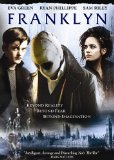 Franklyn
"Franklyn" by Yojimbo
3/4 stars
As a lone vigilante stalks the streets of Meanwhile City in search of the murderous leader of a cult, three damaged and lonely souls struggle to find meaning to their lives in contemporary London.

Franklyn can best be described as a psychological thriller dressed in the trappings of Gothic fantasy. The – initially at least – two stories are told in tandem but it is of course the visually appealing scenes in the gloomy alternate reality that are the most intriguing. The world Gerald McMorrow has created is essentially a steampunk version of The Matrix and also has a lot of similarities to its forerunner Dark City. The nice production design has a Tim Burton's Gotham-like foreboding and Ryan Phillipe's masked anti-hero is a charismatic figure. The modern scenes are a little less interesting, Eva Green clearly channelling Marla Singer from Fight Club and Sam Riley's self-pitying jiltee is a little too wet a character to fully sympathise with. The story does maintain the interest by teasing the audience with tastes of how the two stories are connected, although as the reveal becomes obvious it does feel a little contrived in a way that appeals very much to pretentious teenagers.

But thanks to solid performances, attractive visuals and the general oddball approach it has a certain charm that will appeal to fans of Gothic romanticism and offbeat fantasy.