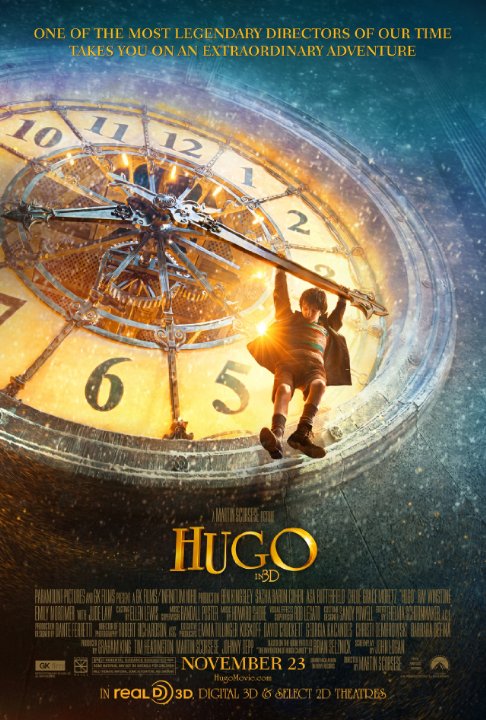 Hugo
Artful, bold and beautiful film
sreekirch - wrote on 10/06/12
Hugo is a film, that is intended to recognise a great film maker, Georges Milies, a French illusionist turned film maker. His visions and an art of drawing pics and incorporating them into films, were trend base for current use of special effects. The effective screenplay from Logan, and craft piece direction from Scorsese is brilliant. Ben Kingsley is terrific as Milies. A small boy Hugo Cabret played by Butterfield is working hard to discover his father's secret. Scorsese knows the way to display the film. He uses the best technical staff and delivers a masterpiece. Recollecting, Scorsese's Shutter Island, and the aviator, he is a director with a vision. Hugo hits emotions and recognizes every character. I can call this a beautiful film.
The plot begins, with a small boy Hugo who works in the giant clock of the railway station. He earns a living by stealing food. He gets caught by toy maker, and station master is after him. Hugo meets Isabelle (Chloe) and she ensures to help him. Hugo has fixed a mechanical device, just like a robot. He thinks his late father Jude Law who died in a fire explosion, has a message for world. So Hugo starts searching for a key that could fix his robot, and this leads him to uncover a truth hidden. But station master and his dog are tracking Hugo.. What's the message and How Hugo would accomplish is to be watched.
The great thing about this film is the way characters served a purpose and the way movie hits the emotional context. Scorsese works upon his railway station world, in a quite living fashion. There is a necessary vision about passengers walking, people learning to improve and bring in a heart touching environment. The whole film, runs on a theatre, railway station, and a mansion type house used for both residence and a library. A giant Clock tick ticking always is wonderful. In some cases, Scorsese demonstrates, public careless even when one falls down. But in a track, they are alert. I do not care, because this film is masterfully made.
Artful, Beautiful, Charismatically delivered, Hugo is a heart warm film, that recognizes its characters and also a message.