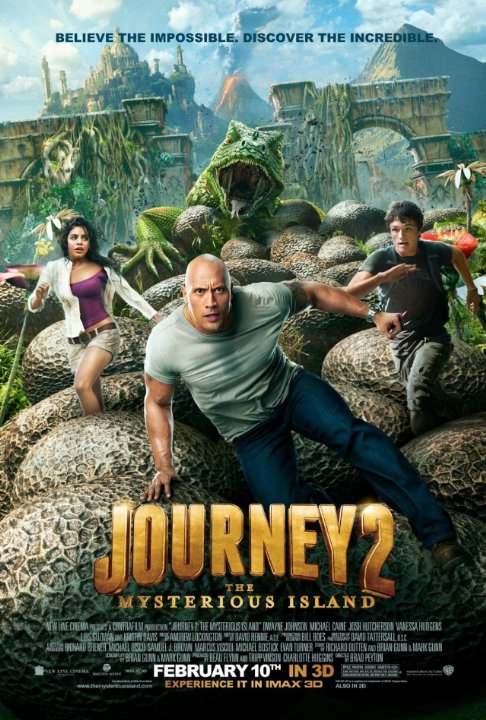 Journey 2: The Mysterious Island
A dog and pony show
sreekirch - wrote on 06/03/12
Science says that, imagination is not just a part but also a depth in understanding its core. In the movie, Journey 2: the mysterious island, the island is full of wild imaginations and more looks like an old fairy tale said to children. But this is no children movie. It is far from insanity and more evolved with some huge creatures and also tiny objects. The big ones are small and small ones are big, hence it is the mysterious island. Brad Peyton (famous for Cats and Dogs part 2), had taken up this part to direct, along with screenwriters Brian and Mark gunn. Warner Bros and New line cinemas distribute the wholesome fun filled entertainer. This movie is careless. With the previous movie, he has shown that plot might be as silly as possible. The coliseum of imagination has run wild and much deeper in terms of delivering a popcorn entertainer. Journey 2, is not a hard hitting tale to think about, with clues left and puzzle solving, but it is rather straight, no brain buster with a silly and fun filled plot elements.

It has a simple plot, about finding Anderson (Michael Caine) lost in a particular place, who could be traced by cracking the radio signal codes sent to his grandson Shawn (Josh Hutcherson). His step father Hank (Dwayne Johnson), is having some trouble with his adapted son. Shawn's mother Less (Kristin Davis) is little bit too caring for her son. Shawn and Hank crack the code and find the way to reach the mysterious island. Once they reach the island, they find strange things and most of all; they need to find a way to get out of there.

Plot development was rather slow at start, but picks up when, they investigate the codes and have a nice jolly ride in the helicopter with gushing storms ahead. It was neither at a lighting grease way or snail's mail. It was a bit slow and steady, but then got its momentum, but what all can be done? Because of a weak plot. Plot elements were present which were obvious in any adventure movie, like gushing winds, powerful storms and stricken island. The whole setup reminds me of King Kong. Action set pieces are missing here, because I must confess that it is Dwayne Johnson here, and he should have got something to show his fighting skills, rather than struggling with a giant lizard. Due to a weak plot, the movie feels dragging and brings in new imaginary characters and CGI creatures to make up the runtime. 94 minutes isn't lengthy or small. It was well enough. But for a while I thought that the real mystery or treasure in the movie's plot is missing. Peyton should have included a bit of Treasure finding in the movie, which would have made the plot more interesting. Climax was a bit convincing when compared to the middle portion and has given a sign for next sequel.

Dwayne Johnson plays Hank, the step father of Shawn. He is probably the best selected star cast for the movie. Leaving Fraser behind, the next best alternative for him is Johnson. With huge body and macho sized biceps, he should have got some gang backers or some hefty thrilling adventurous skills to show off. I thought for a while, this plot had nothing to show his immense talents. Michael Caine is another excellent actor who had nothing to do here. His role was to send signals and check the direction on the radar, and guide them to certain surprises. Josh Hutcherson is way better when compared to the previous two. But his leg breaking scene had given me an idea that, his role is ended here. Bad luck young boy. Vanessa Hudgens is just a girl character for the young lad. She has nothing to offer, but shout and scream and give a chance for Dwayne to help his son, to make him fall for her. Luis Guzman who is famous for undertaking thug, cop roles is here a pilot of a stricken helicopter and a very funny character who does not show up much in the plot. The main problem of the movie is the selection of cast. For example, an action hero, a terrific actor who can mesmerize audience with dialogs and a well mentioned sidekick when all the three are present, the presence will enhance them. This is where the movie failed. None of them were fit for their roles. Performances were also wasted because of the roles they undertook. I do not know about Peyton's decision, may be he thought to bring in some viewers due to Dwayne Johnson and Michael Caine.

Yes with this strength in the cast, the movie is surely going to bring in some viewers and with the 3D technology it is sure to rake up some box office records. But for how long, is the question in my mind. Journey 2 is neither boring nor peaking for an interesting adventurous trip. It is somewhere in between. It is power packed visual ride with some CGI workups and presence of Dwayne and Caine. But lack of a strong plot and misfit characterization will not help. Peyton decided for an adventurous trip with 3D in mind, he did show some effects, but were charred up with a weak plot and boring mid half. Finally it ends up as a dog and pony show.