1.5/4

2.5/4

3/4

2.5/4

3/4

3/4

2/4

3/4

2.5/4

3.5/4

1.5/4

1.5/4

2.5/4

3/4

2/4

3.5/4

2.5/4

2/4

2/4

1.5/4

3/4

2/4

2.5/4

3/4

3/4

Next 25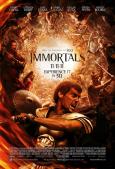 Immortals (2011)
Don't Trust The Negative Reviews
3/4 stars
I think I saw a different movie than what most people saw. If you liked 300, you should love this movie. If you like action, you should like this movie. I must preface that I don't know anything about mythology, but I wish I did. This movie may not be accurate, but I don't care.

The story: similar to 300, Troy, and to a certain extent, this movie is about the old days. The difference between Immortals and the others is that this one introduces The Gods, which makes it that much better. They are more powerful than humans and have excessive skill. Very cool, yet thin, characters. The story is not ground breaking, but I don't know of a movie that finally includes true Gods and Warriors like this.

The Cinematography/Style: As you would expect with Sing helming the project, the style is hard to be topped. Rich colors, great landscapes, beautiful people, long sweeping scenes. Great stuff (though the weakest of his movies) but not perfect.

The Score/Music: Above average but nothing stands out. It fit in with the story and the setting but was overly dramatic at times. I can't complain too much, but should have been better.

Acting: Paper thin, but this is an action movie for God's sakes. You don't see this movie for any acting capabilities. There are a few cheesy lines, but overall it doesn't detract like many crappy action movies do. The acting is on par or better than 300 in my opinion.

Compared to Others: This better than Thor, 300, and many of the other comic book movies that have come out this year. If you want action, Greek Gods, dazzling sfx, cool cinematography, this is a movie for you. Don't trust the other reviews. It's not an Oscar winner, but what can I say, I am a sucker for cool, stylized movies.