Are You in for the Superhero Long Haul?
By Chris Kavan - 10/22/14 at 04:13 PM CT
Back in 2008, when Iron Man hit theaters and became a big hit ($318.4 million domestic, $585 million worldwide), it ushered in a new era of movies. The "cinematic universe" - a multi-year, multi-movie arc involving various characters who are then brought together for one huge film. Marvel started it off with Iron Man, Thor and Captain American, culminating in the monstrous Avengers. And pretty much each subsequent Marvel film has been an unbridled success.

It comes as no surprise then that not only is the Marvel cinematic universe alive and well, but that DC was soon to follow suit. What is surprising, however, is just how invested DC is in their own cinematic universe, having outlined a plan through 2020 for their vision. Batman v Superman is up first in March of 2016, followed by Suicide Squad (hoping their ragtag group of "heroes" impresses as much as Guardians of the Galaxy) later that year. A stand-alone Wonder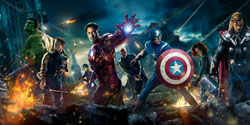 Woman and the all-star Justice League drop in 2017 - followed by a Flash and Aquaman movie in 2018, a second Justice League in 2019 and a Green Lantern reboot and Cyborg movie in 2020. Meanwhile, Marvel has their own plans with Avengers: Age of Ultron on May 1, 2015, Ant-Man in July 2015, Captain America 3 and Doctor Strange in 2016 and Guardians of the Galaxy 2 in 2017. There has also been rumors of Spider-Man joining the Marvel fold, though right now it's more rumor than truth.

Aside from Marvel and DC, you still have Spider-Man (if he stays on his own), the X-Men franchise, the upcoming reboot of The Fantastic Four and even rumors that the long-in-the-making Deadpool will see the light of day. If that isn't enough, everyone from Star Wars to classic horror monsters are jumping on the "cinematic universe" bandwagon - and that could be just the tip of the iceberg.

But the big question is: can DC compete with Marvel? While I thought the new Superman was head and shoulders above the travesty that was Superman Returns, the fact is, a lot of people were against the rather dark and depressing vision of Man of Steel. It was like Zack Snyder was trying to make a new Dark Knight but with more widespread destruction. He's already been announced for Dawn of Justice as well as the Justice League films, so hopefully he retains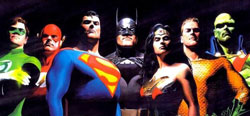 the support. The issue is that DC (aside from its main characters) doesn't have as much appeal - Aquaman? Cyborg? Granted, if you would have asked about Iron Man and Thor before they hit, you probably would have got the same response. Audience awareness does not make of break a movie (see just how well Guardians of the Galaxy has turned out. Still, studios are asking a lot out of an audience that, quite frankly, I'm surprised isn't sick of the whole superhero genre yet.

The next two-three years are going to tell us a lot about whether this model is going to be the future of how studios are going to do business from now on, or whether they have just made a huge mistake in anticipating audience reaction. The reason things have worked so well for Marvel is that the quality has been solid, the films entertaining and the characters memorable - but as soon as that quality slips, we'll see if there is a revolt.