By Chris Kavan - 04/13/13 at 07:29 AM CT
I've got the worst movies of all time out of the way - now it's time to turn to something with a bit more heft. Now we've reached the top 10 - out of all the Oscar-winning films I have seen up to this point in my life - these are the ones that mean the most. The ones that have had the biggest impact on me and on the cinematic landscape as a whole. If you haven't watched these films, I emphatically suggest you do at the earliest possible time. Don't agree? I don't mind - lists (and tastes) are subjective - but this is my honest opinion. Without further ado:

10) GANDHI




Maybe I should change biographies to one of my favorite genres - seeing as how so many of them are going to show up on this list. What makes this film so amazing is that we're never going to see another one like it - the funeral scene alone used so many extras - real people - something that probably would be whipped up with CGI and it's just not the same. Ben Kingsley leads an all-star cast that includes the likes of John Gielgud, Martin Sheen, Candice Bergen, Saeed Jaffrey and Trevor Howard. I know I throw around the world "epic" a lot in these descriptions but Gandhi is certainly worthy of that title.

9) THE STING




Between this film and Butch Cassidy and the Sundance Kid Paul Newman and Robert Redford prove that when you have perfect chemistry on screen - it can make for a pretty near perfect film. I won't argue which film is better - that could fill its own blog - but I will say that The Sting is so much fun because it throws so much at you - you can't con a conman? Oh yes you can - if you have a plan - and what a plan The Sting gives you. Plus, it made The Entertainer one of my favorite songs. The less you know going in, the better - because all those twists add up to one of the greatest endings in any film. The entire cast is strong - Robert Shaw, Charles Durning, Ray Walston and Eileen Brennan all play their part in making this a true classic.

8) CASABLANCA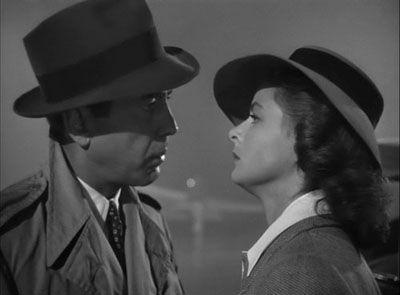 Simply put - this is the greatest romance put on film. As a rule I avoid most romantic films - but that's because modern romantic films all seems to be banal and pedantic. But Casablanca - it's timeless - Bogart and Bergman - it just doesn't get any better. Beyond those two you have superb performances from Claude Rains, Paul Henreid, Conrad Veidt, Sydney Greenstreet and Peter Lorre. It's not often you can mention one particular genre and than instantly match a film to that genre - but Casablanca is one of those films and it deserves that recognition.

7) THE BRIDGE ON THE RIVER KWAI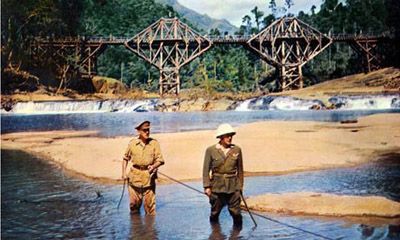 If war is hell and hell is other people - then Bridge on the River Kwai may be the most perfect war (or anti-war) film ever made. Although Alec Guiness will forever be ingrained in my mind as the wise, old Obi-Wan Kenobi - Colonel Nicholson is clearly his greatest role. He is a man deluded by his own twisted sense of morality and dignity. Watching him go from respected officer to completely mad is simply amazing. If you're looking for a war film that goes deeper than most with compelling characters, excellent direction and amazing cinematography - look no further.

6) ONE FLEW OVER THE CUCKOO'S NEST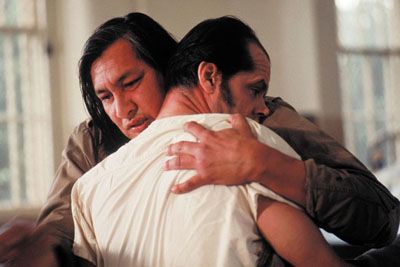 This is all about finding chaos in order - evil in a place of healing and gives us one of the greatest roles from a well-respective actor who has made a career out of playing outsiders. Jack Nicholson is simply at the top of his game as McMurphy - a man who would rather go to a the madhouse rather than prison. And there are some familiar faces (and so young too!) Danny DeVito, Christopher Lloyd and Brad Dourif are just some of the faces you'll see. However, a man like McMurphy had to be put on some kind of leash and that is where Louise Fletcher comes in as arguably on of the greatest villains ever filmed. It has a gritty feel and the ending is both uplifting yet utterly depressing. It's an amazing accomplishment in every way.


This was originally going to be my complete top 10 - but I have so much to say about the films that you're going to have to wait for my fop five next week. Don't worry, I think it will be worth the extra few days wait.
Comments
Alex - wrote on 04/14/13 at 01:27 PM CT
I only have one of these in my top 100, but all of them but Gandhi are great movies in my mind.
Daniel Corleone - wrote on 04/13/13 at 10:54 AM CT
Not too high on Casablanca and Bridge on The River Kwai. The rest of the the films were just amazing from start to finish. Looking forward to your best 5.