Spending Money on Some Mondo, Cause I Got Mondo on My Mind
By Chris Kavan - 02/22/13 at 08:37 PM CT
It has been quite a spell since I seriously considered buying a movie poster. One of my most prized possession is the Star Wars Episode 1 teaser poster I got through Star Wars Insider. The movie may have been a disappointment to fans, but seeing Jake Lloyd with the shadow of Darth Vader behind him was an excellent way to promote a return to Star Wars. Yet other than that poster, I really haven't paid much attention to the poster medium (though I have always really wanted an original Revenge of the Jedi poster).

Yet there is company out there who don't just treat posters with respect, they turn it into an art form. Mondo - an offshoot from the Alamo Drafthouse theater chain in Austin, TX has gone from producing custom tee-shirts in 2004 to producing amazing posters. They often focus on so-called "cult" films (think The Big Lebowski, The Warriors, Troll 2 and many more) but in recent years they have been approached by studios to design special poster (for the likes of Transformers and Captain America) as well a focusing on specific directors (incluindg Wes Crave and Guillermo Del Toro).

People who work on these posters include Olly Moss, Jay Shaw, Tyler Stout, Martin Ansin, Alan Hynes and more. They even occasionally get a guest to help, like Shepard Fairey (who came up the with Obama Hope image). There is a lot of talent and it shows. Each poster only has a limited run (anywhere from about 250-500 or so) and once they are sold out - that's it. While the date is announced early - only alerts via Facebook and Twitter will tell you when the poster is actually on sale. They usually sell out within minutes - and the best way to get your hands on one is probably Ebay (obviously marked up accordingly).

While I have been aware of Mondo for quite some time, I hadn't actively sought out any posters. That all changed while I was randomly searching through the news and saw it: a Battle Royale poster. Being that my birthday is coming up, I thought, why not treat myself? The design is so unique I couldn't pass it up! I mean can you deny this:




It immediately caught my eye because the style is so unique and I absolutely think it captures the spirit of the movie - in even though the whole thing is about school kids forced to kill each other - it's all in good fun (in a demented kind of way - but that's the kind of person I am anyway). There are plenty of other posters that look amazing - but after spending $125 on this one (it was originally $50 on the site - but of course I wasn't lucky enough to get in on the original limited run of 425), it seems like quite the expensive hobby.

However, if anyone is interested in getting me a birthday or Christmas present, feel free to drop about $2700 or so on the incredibly popular Moss prints of the Star Wars trilogy that was released in 2010: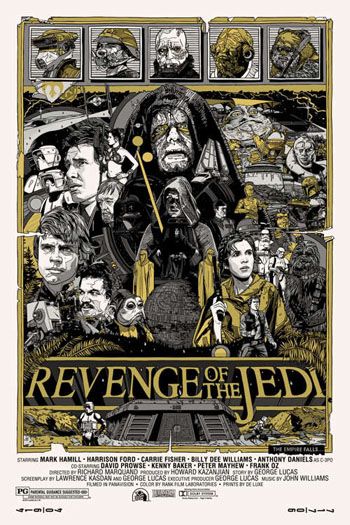 I would love to find room for that - but I don't have that kind of money just sitting around. If I did, however, I would scoop them up in a hot minute. It's almost as good as the actual Revenge of the Jedi poster I've been pining over for years. I'll have to keep an eye out for Mondo now - who knows, maybe something else will strike my fancy.