My Top 10 of 2011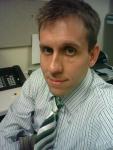 By patjohnson76 - 01/14/12 at 11:48 PM CT
I know this is coming late, but it's only because there were so many great movies released late in 2011 that I wanted to try and see before making a "best of" list. I'm also creating this list with an important disclaimer: there are some critically beloved movies of 2011 that I have yet to see, most notably The Descendents, Moneyball, and Hugo... but those are probably going to be Netflix viewings at this point (unless some theaters decide to keep them around for awhile). With that said, I'm not claiming these are the BEST films of 2011, but my favorites of the past year... that I've seen to this point.

10. Thor - This is making my list more because of the surprise it was rather than the type of film it ended up being. I didn't have great expectations for this going in, but found it to be great. The casting was strong, the story was strong enough, and the things I was worried about (the special effects, mostly) turned out to be good. I had a great time viewing this movie, and thought Kenneth Branagh's direction, Chris Hemsworth's interpretation of Thor, and Patrick Doyle's score made for a great viewing experience.

9. Harry Potter and the Deathly Hallows: Part Two - As a film itself, it doesn't stand well on its own, but flows well with other films in the series, particularly with the first part of the Deathly Hallows. After 10 years and eight installments, I have to give credit to all involved for keeping their audience engaged.

8. Tinker Tailor Soldier Spy - I just saw this a week ago and was a little disappointed after the viewing (the previews make this out to be a thriller when in actuality it's more of a drama). But I have to admit, it's been on my mind all week, and now I'm wanting to go back and see it again. I think it's one of those films that grows on you, and Gary Oldman's performance is one of the best of the the year.

7. The Help - You is kind, you is smart, you is important. I really enjoyed Kathryn Stockett's book, and found this adaptation to be excellent, thanks to the performances of the cast. I think there should be an Oscar for outstanding cast, awarded to a film with no real leads. The Help succeeds not only because of it's great story, but also because of its outstanding cast.

6. The Muppets - I will full out admit, nostalgia is reigning here. As someone who has grown up with the Muppets, it was an absolute joy seeing them on the big screen once again. The story was all right, the acting was okay, but when Kermit started singing The Rainbow Connection... well, let's just say it's one of the few times I've had chills this past year at the theater.

5. Mission Impossible: Ghost Protocol - After a few installments of trying to balance a well-written story with action, M:I GP just goes all out with the action, creating one of the more enjoyable experiences at the movies this year. I have no problem with a movie deciding to be all action, and this one succeeds because of the strong cast and the great direction by Brad Bird.

4. Source Code - Back in the spring of 2011, a film was released called Source Code, starring Jake Gyllenhaal. It did okay business, got some positive reviews, but wasn't really embraced by the public. I loved this film, the story of a man who is put into the final eight minutes of another man's life to prevent a tragedy. It's a great film for those who are fans of sci-fi drama.

3. War Horse - Steven Spielberg will always have a soft spot in my heart, and when I heard he was going to be adapting one of my favorite childhood novels, I couldn't wait to see it. This film isn't for everyone, but when it comes to war epics, Spielberg is the best in the business. I think it's great that in an era of cynicism and snark, Spielberg has no problem presenting a film that presents an emotional connection between humans and animals.

2. Bridesmaids - I can't remember the last time a film as made me laugh out loud so much. While some gags are obvious, the characterization and script is what stands out here. Much has been made about Melissa McCarthy's performance (which is admittedly great), but the real story here is Kristin Wiig, announcing herself to the world as a true leading lady.

1. The Artist - One of the most daring, most original and most fun you'll have at the movies. A smart script that chooses to present this story as a silent film is just one of the great things about this film, about a silent film star left behind when films become talkies. One of the most imaginative and original films I've seen in a long time.