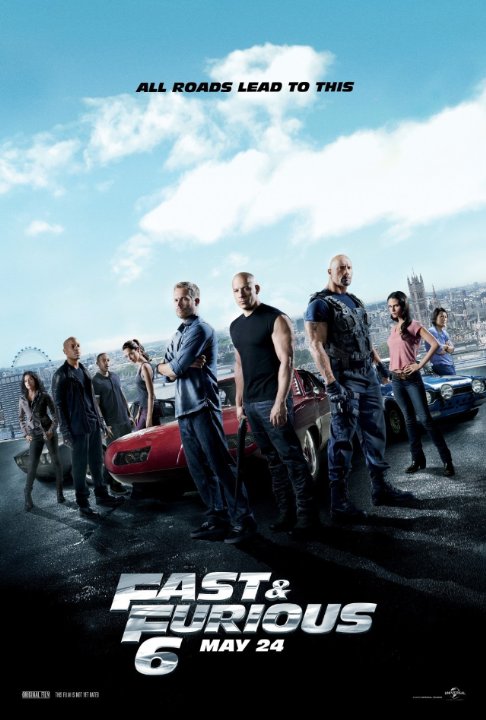 Fast & Furious 6
Fast & Furious review
Daniel Corleone - wrote on 06/27/13
"Ride or die remember?" More believable action than 5, more emotional than the rest and the best bad guy for the franchise. The production of Fast & Furious goes to London. Dominic Toretto (Vin Diesel) reunites with his team (Brian, Tej, Han, Gisele, Hobbs and Riley) and shows to Brian O'Conner (Paul Walker) a picture of Letty (Michelle Rodriguez), which he believes is alive. Diplomatic Security Service (DSS) agent Luke Hobbs Dwayne Johnson) and his partner Elena (Elsa Pataky) asks Dominic and his team to get British Special Forces soldier Owen Shaw (Luke Evans).

The risks here were much higher, Brian maybe locked-up for life, Letty shooting Dom while he tries to regain her memory of the past and the antagonists high-tech equipment with a capable team to rival Dom's. Screenplay was somewhat smarter this time with quotes: "Money changed you." "You don't appreciate something until it's taken away from you." "Simplest things can cause the biggest problems." "You gotta check your emotion." "I'm the one who makes it right." "This is who I am." and "We all got our weak spot." With the script, it makes the characters more human. We can see how they sacrifice for their loved ones unlike before where they just race and steal cars. Only criticism was the realism of certain scenes and having some characters die so easily, unless they have plans for the next installment for them.

Definitely had more action, not only the car chases and hand to hand fights but also the stunts as well. Finally a worthy villain who has the intelligence and resources to make it challenging for the protagonists. Fast & Furious 6 emphasizes friendship, family, choices, appreciation and identity without being cheesy. Easily the best of the bunch, and we all cannot wait for Fast & Furious 7, especially when we get to see somebody familiar in the action genre before the end credits.