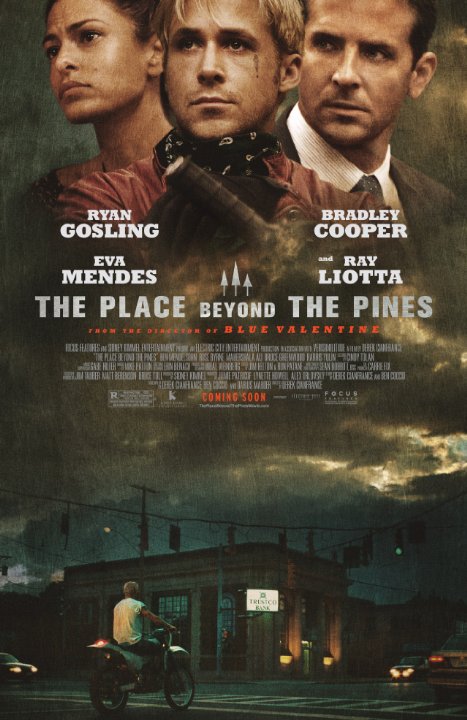 The Place Beyond the Pines
The Place Beyond the Pines review
Daniel Corleone - wrote on 06/25/13
An epic in its own right, just spotless on all accounts. This will have an impact for fathers (as myself who just became one a year ago), kids who remember/have their old man and enjoy a brilliant picture with countless lessons to pick-up from. It is impossible not to get moved from the three stories. The movie is about Luke Glanton (Ryan Gosling), a motorcycle stuntman earning minimum wage; former ex-girlfriend Romina (Eva Mendes) and a brave cop namely Avery Cross (Bradley Cooper). Luke finds out he has a son from his former lover. He asks his friend Robin (Ben Mendelsohn) for more money to take care of his son. After-which, he mentions to Luke that he used to be a bank robber. Luke was imprisoned because of assault. Avery is in pursuit of Luke and becomes hospitalized. Peter Deluca (Ray Liotta) and Avery's fellow officers visits Avery to do some "police work." After 15 years, Avery's father passes away and the children, Jason Glanton (Dane DeHaan), AJ Cross (Emory Cohen), have their own story to tell.

Derek Cianfrance amazingly mixes action (one of the best scenes was the chase with the police after he does the job on his own), mystery (Jason finding out the truth about his dad), drama and elements of humor (barfing after the robbery and Hall & Oates comment). Screenplay was great with logical lines: "I'm going to do what I have to do." - Romina "If you ride like lightning, you're gonna crash like thunder...You had your choice." - Robin and "You gotta work your way up." - Chief. This rater believes the musician, songwriter, actor, producer Mike Patton (one of the most underrated vocalists of rock, with one of the best bands around Faith No More) tries to be Trent Reznor in terms of lending his talents to the film industry. He does a great job with the background music which really makes the picture more vibrant and fills the mood.

Cinematography was impressive and performances all around were believable. Bountiful themes were exhibited such as right and wrong, morality, leaving a legacy, forgiveness, starting a new life, memories, fatherhood/temper (Luke), a flawed hero/guilt (Avery), drugs/acceptance (AJ), friendship (Robin), father's traits inherited (Jason) and police corruption (Deluca). Gosling shows some range here while Copper just exceptional. Dane DeHaan, a Benecio Del Toro look alike, has potential as well if given the right roles. The overall output is flawless from all aspects of film-making, story and screenplay. This has that "Magnolia," "Traffic" and "Social Network" quality. The Place Beyond the Pines may or may not have any recognition or accolades (though personally this was one of the best pictures of the year), it was still a well-crafted film from start to finish and can easily be repeatable in terms of viewing.
Recent Comments