3.5/4

N/A

1.5/4

3.5/4

2/4

2/4

4/4

2.5/4

2/4

3.5/4

3.5/4

3/4

3.5/4

2.5/4

3/4

1/4

4/4

4/4

3.5/4

4/4

3.5/4

4/4

3/4

4/4

3/4

Next 25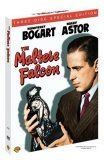 Maltese Falcon, The (1941)
The Maltese Falcon review
4/4 stars
"But business should be transacted in a businesslike manner." Viewing this again for better appreciation, the effect was positive. Sometimes simplicity is best in presenting a great story. Private investigators Sam Spade (Humphrey Bogart) and Miles Archer were approached by Ruth Wonderly (Mary Astor), who was looking for her sister. Archer has been shot so Police Detective Tom Polhaus (Ward Bond) and Lieutenant Dundy (Barton MacLane) investigates Sam. Ruth admits her real name is Brigid O'Shaughnessy. Joel Cairo (Peter Lorre) meets Spade to recover an ornament by means of force. Brigid talks to Sam about the Falcon. Kasper Gutman (Sydney Greenstreet), the "Fat Man" gives Sam a call.

One minor detail that this critic found mysterious was an unknown Captain Jacobi of the La Paloma handing the Falcon to Spade. Such a significant ornament and yet the person delivering it had little background. Pace of the story is swift but smooth to keep the audience engaged with the story. Skillful camera direction coupled with a cheerful/majestic score that keeps up with the pace of the film was evident. Screenplay for its genre was smart with lines: "Everybody has something to conceal." - Sam. "I haven't lived a good life. I've been bad." - Brigid. "Men are likely to forget where their best interests lie and let their emotions carry them away." and "When you're young, you simply don't understand these things" - Fat Man. It's topics involve lies, business transactions, crime, getting the facts and self interests were presented brilliantly. Performances were astoundingly believable, from the tough wise detective, a gorgeous dame that lies, a tough guy he always gets humiliated by a detective and a hefty business minded boss who seeks the Falcon.

Highlights in the most suspenseful moments: The Falcon being opened and the discussion whether to have Brigid take the fall. Spade was a witty detective, Brigid just gorgeously entrancing, Cairo devious and Gutman eloquent with words. Bogart was definitely perfect for the role. It doesn't take a lot of gun or hand to hand action to make a great crime mystery. Maltese Falcon is a pioneer in film-noir because of the style of direction, spectacular plot, fabulous acting and a provocative script. This debut of John Huston can be viewed again and again not only because of it's amazing direction, but for the performances of the leads and enticing story.