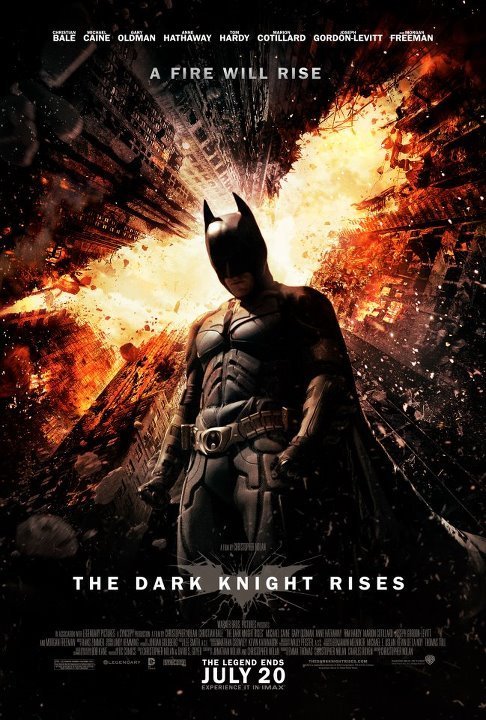 The Dark Knight Rises
The Dark Knight Rises
LeeAnn M. - wrote on 08/11/12
This was a great good-bye to the Christopher Nolan and Christian Bale trilogy. The mood was so much darker than The Dark Knight. I actually cringed quite a bit with Bane's actions. I can not compare which was better, Ledger's Joker or Hardy's Bane because both were equally menacing.
Bale's Bruce Wayne is introduced as a recluse eight years after Batman was labled a villian of Gotham City. Batman is no longer needed because the crime in the city has never been lower, making the policemen more of a decoration than a profession. Things change when Bane makes his appearance and all hell breaks loose, making Batman's return essential. Complicating Batman's agenda is Silena Kyle with her cat and mouse games with both Wayne and Batman. She plays a cat burglar with nothing to loose because of her fear of Bane. Wayne's support system of Lucius Fox and Alfred deserve award recognition with both of their matter-of-fact conciousness that Bruce Wayne needs. Not to be left out is Gordon-Levitt's Blake. He shines as the diligent policeman with an eye for detail who later is welcomed into Wayne's inner circle and is made detective by an ailed Comissioner Gordon. Blake has a future in the Batman series of only Nolan decides to change his mind and make a fourth film without Bale. I really don't see that happening. But to further develop Gordon-Levitt's Blake under a different director would be improper.
I loved Nolan's Batman trilogy. The tone and feel of the series banished the cartoonish feel of Batman forever. All three films drove home the fact that evil is around us at any given time and chaos could erupt without the courtesy of a warning.
The Dark Knight Rises is a film I will be watching repeatedly when it becomes available on Bluray disk. Even though the film is nearly three hours long, I did not feel it dragged unnecessarily.