2.5/4

3/4

3/4

3/4

3/4

3/4

1.5/4

2.5/4

2.5/4

3/4

1.5/4

3/4

3/4

2.5/4

2.5/4

3/4

3/4

2.5/4

2/4

3/4

2/4

3/4

3/4

3/4

2.5/4

Next 25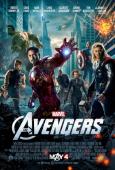 Avengers, The (2012)
Fun and Good Watch
3/4 stars
When Loki comes back to the Earth and threatens the world, the S.H.I.EL.D agency leans to the Super Heroes, composing Iron Man, Incredible Hulk, Thor, Captain America, Hawkeye and Black Widow, who call themselves The Avengers.

***

I wasn't expecting that much from this film before watching it, I expected an imbalance screen time for every super hero, and it kinda happened. Iron Man and Captain America seemed to get more screen time than the others, BUT I must say that with good direction of the film, the other avengers get enough time to establish their characters. Hawkeye is my favorite. It is good also that Loki is the first antagonist of this power house set of protagonists, I was drawn to Loki's character since I saw Thor.

I liked Robert Downey here, and of course, Tom Hiddleton who played the ever envious brother of Thor. I also had fun watching Captain America and Iron Man meeting and exchanging words.

This was definitely a good watch, it's just that,in the beginning, when it was trying to introduce everything, it appeared boring and I swear I almost sleep on it.