3/4

4/4

3/4

3/4

3/4

3/4

3/4

1.5/4

4/4

4/4

2.5/4

4/4

2.5/4

3.5/4

2.5/4

0.5/4

3/4

2.5/4

2/4

2.5/4

2.5/4

2/4

2.5/4

3/4

3.5/4

Next 25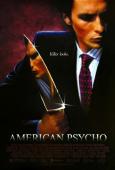 American Psycho
I'm into... well murders and executions mostly
4/4 stars
The first time I watched American Psycho I wasn't sure what to expect. I had looked at the way the trailer played out and to me it seemed as though it was presented as a just a Thriller movie. When I watched it I watched it as a thriller... and I hated it.
I am not always one to write off a movie just because I didn't enjoy it the first time. And there were a number of friends of mine that hadn't seen it so I decided to give it an open perspective this time around. The second time was much better. It was after a few conversations with some friends at the time that literature majors that I realized that the movie was designed to be more of a dark comedy than anything else.
Now here it is 8 years later. I have read the book and I gotta say I've watched this film 10 times in the last 6 months. It is among one of my absolute favorite movies.
Christian Bale is brilliant in this film because he takes the character of Patrick Bateman to an intensity that is most accurately depicted in Bret Easton Ellis's book. The ideals of the 1980's yuppie were far out of whack and that was the way it was in that time.
I love how no one in the film knows who anyone else is, the entire movie you hear people calling other people by the wrong name simply because they are all so similar that even the name doesn't make a difference. In fact some are happy to be mistaken for someone more successful than they are.
Now if you'll excuse me.... I have to return some videotapes.