3/4

4/4

3/4

3/4

3/4

3/4

3/4

1.5/4

4/4

4/4

2.5/4

4/4

2.5/4

3.5/4

2.5/4

0.5/4

3/4

2.5/4

2/4

2.5/4

2.5/4

2/4

2.5/4

3/4

3.5/4

Next 25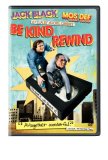 Be Kind Rewind
Unique film, funnier than anticipated.
2.5/4 stars
First let me say that I thought this film was better than I expected. To be honest I didn't go into the theater with high expectations. I was thinking that the best parts of the film were already shown in the previews that that would be the hardest part to accept. I like most of Jack Black's movies. Again with some comedians Jack Black is definitely an acquired taste. The cast was well chosen, the concept was very interesting. I didn't know how they would make the idea of VHS tapes being erased work because VHS is pretty much considered to be a dead media (there are kids that have never had to deal with a VCR or a Tape Deck so this concept would be lost on them all together).
I thought it was brilliant that they didn't decide to hide the fact that VHS is not that popular any longer and that the store they worked in just never changed with the times, it was one of the last mom and pop stores that was on its last legs but had a loyal customer base.
The film was fun, it was original, yeah it seemed a little slow at times but it was definitely a good one.