3/4

4/4

3/4

3/4

3/4

3/4

3/4

1.5/4

4/4

4/4

2.5/4

4/4

2.5/4

3.5/4

2.5/4

0.5/4

3/4

2.5/4

2/4

2.5/4

2.5/4

2/4

2.5/4

3/4

3.5/4

Next 25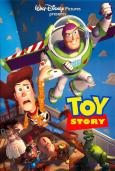 Toy Story
A very fun animation
3.5/4 stars
This is the movie that inspired me to become an animator. After watching this movie and seeing what computers had the capability of creating I realized that I have found what I want to do with my life. The story itself was fun, it is one that any kid, and most adults will be able to get into and appreciate. We all remember a time when we would play with toys and have adventures with them.
This movie captures the imagination of of a child and turns it into a fun story in which the toys have their own lives outside of what the kids do with them.
This movie set a bar in the field of animation and every movie has been doing what it can to break the bar, or at least make it higher.
The voice acting is great, and considering that when this was shot most scenes were independent of each other (meaning the actors were not in the same studio at the time, and they were often recorded on different days), so the sound artists did an incredible job of making it seem as though everything were happening together.
A great movie, fun for everyone.