3/4

3/4

2.5/4

1.5/4

3/4

3/4

3.5/4

3/4

3/4

3/4

3/4

3/4

3.5/4

3/4

3/4

3/4

3/4

3/4

3/4

3/4

3.5/4

3/4

3/4

3/4

3/4

Next 25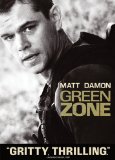 Green Zone
Zoned Out
1.5/4 stars
Difficult to comprehend the point of Paul Greengrasses movie. As an Iraqi war movie, its a million miles behind Katherine Bigelows "The Hurt Locker with its murky action scenes and suspense free chase sequences. As a political statement, Green Zone is excessively heavy handed with sprinkles of liberal bias and a conspiracy theory that most people believe in anyway.
If you view this as the fourth Bourne movie (which it isn't, although some of the ads seemed to be pushing it that way), then you will be disappointed. This is a tepid, chaotically shot and strangely convoluted movie which is a dumb down version of real life events affecting America, the Bush administration and the ongoing military operation in Iraq.
A major disappointment and arguably a seriously misguided movie.