3/4

3/4

2.5/4

1.5/4

3/4

3/4

3.5/4

3/4

3/4

3/4

3/4

3/4

3.5/4

3/4

3/4

3/4

3/4

3/4

3/4

3/4

3.5/4

3/4

3/4

3/4

3/4

Next 25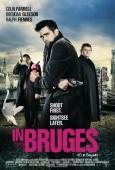 In Bruges
You are the worst tourist in the world.
3/4 stars
A movie that promises hit men, shootouts and violent action metamorphoses into a different beast altogether.
Pitch black humour blends with machine gun dialogue which is uttered with extreme relish by three actors having a whale of a time.
A profane, suspenseful and very funny film about trust, honour and redemption, In Bruges turns the gangster thriller on its head and delivers an unpredictable road movie which is compelling and totally unique,
Surprisingly also works well as a travelogue for the fairytale medieval city of Bruges.