3/4

3/4

2.5/4

1.5/4

3/4

3/4

3.5/4

3/4

3/4

3/4

3/4

3/4

3.5/4

3/4

3/4

3/4

3/4

3/4

3/4

3/4

3.5/4

3/4

3/4

3/4

3/4

Next 25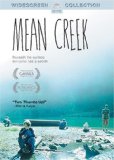 Mean Creek
What do you guys say we play some Truth or Dare?
3.5/4 stars
It is rare to see a coming of age drama that is as perceptive, astute and as realistic as Mean Creek.
A routine story is handled with a moral complexity missing in most teen movies and the acting has a brutally honest edge, Mean Creek is a taut, suspenseful little thriller with honest dialogue and a young cast that is convincing and assured.
This is a surprisingly good movie that is confrontational and incredibly earnest and handles the sometimes-painful transition from child to adulthood with a sincerness, which can only be admired and
feared.