3/4

3/4

2.5/4

1.5/4

3/4

3/4

3.5/4

3/4

3/4

3/4

3/4

3/4

3.5/4

3/4

3/4

3/4

3/4

3/4

3/4

3/4

3.5/4

3/4

3/4

3/4

3/4

Next 25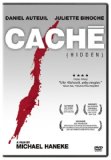 Caché
Can you think of someone?
3/4 stars
Intellectual and cerebral thriller that demands the full attention of the viewer.
Metamorphosing from a simple riddle into a complex and challenging mystery-encompassing relationships, lies and secrets, Cache (or Hidden as it is known in the UK) never takes the easy route.
Stirring performance from the two leads help to create an aura of suspense and even bewilderment in this multi layered, expertly crafted movie.