3/4

3/4

2.5/4

1.5/4

3/4

3/4

3.5/4

3/4

3/4

3/4

3/4

3/4

3.5/4

3/4

3/4

3/4

3/4

3/4

3/4

3/4

3.5/4

3/4

3/4

3/4

3/4

Next 25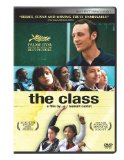 Class, The ( Entre les murs )
Between the walls
3/4 stars
A remarkable film charting life in an inner city multicultural high school in Paris.
Exploring the honest (if sometimes misguided) attempts of a teacher to help his pupils even when faced with apathy and racial divide, The Class is a refreshing, exhilarating and totally compelling movie. Taking into consideration that the ensemble cast are all non-actors and a lot of the dialogue was improvised only makes it even more of a sensational effort by director Laurent Cantet.
A film without stereotypes and clichés, the 2008 Palme d'Or winner is a uniquely thought provoking tale which raises many important questions without offering up easy answers.